Report: Bukit Kiara RDA 5.5km Charity Walkathon
By Aiman Cheah
Date: 27 March 2011 | Sunday | 8:00am
Venue: Sports Complex, Bukit Kiara Equestrian & Country Resort
Category: Men's Open (Above 12 Years Old)
Distance:5.5km
Result: 30:47 Position:4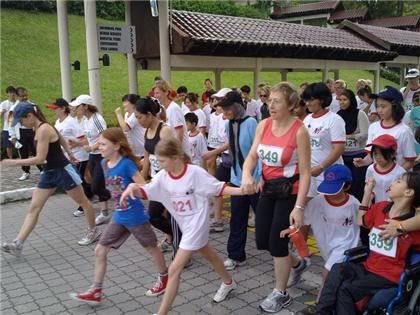 Starting of Children & Ladies Open. Picture courtesy of Zuraidah.
This was a more relaxing event for me as the venue was just 15 minutes away from my place and it started at 8.00 a.m.
I was surprised that there were not many people for the event. Perhaps, many opt for other charity races like the one held by UPM and MMU Green Run.
Looking at the participants I thought I would have a chance to at least finish third. It would be a mission impossible to perform better than that with the presence of two Sureshes. He is certainly a class above the rest.. recent champion in the age 35 category of the Asian Masters Championship.
At the start I was struggling to keep pace with the rest. Starting on the second row, I was immediately 6th. Three were close on Suresh's heel. I was following a boy as both of us were kept apart of about 10 metres within a minute the race began. The gap was bigger as the race progress and I was left by the boy once it was going up hill.
I was really lucky because the boy slowed down when going down hill. That was where I took the advantage. We exchange lead until there was no more up hill and I managed to pull away from him. I was surprised to see Raja who was 4th then. He looked tired and I overtook him. I slowed down as the leaders were not within my sight... they could have completed the race!
Raja tried to overtake me with about 100m to go. I responded by going all out and managed to stay ahead of him. I was dead tired even before crossing the finishing line.
I got bowling tickets and an umbrella for finishing 4th... not bad in a charity event.
I have yet to get a podium finish in a charity event. It is always tougher than Masters' races, Starwalk or Malay Mail Walk.
I will not be surprised at all if I miss the top 5 in the coming Nalanda Walk for Charity. Two years ago, I managed to get a prize only after a disqualification of a participant.