Sammy Wanjiru: 1986-2011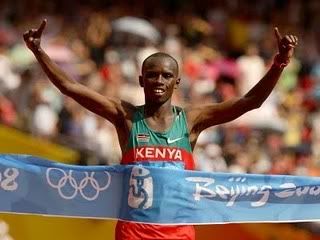 Sammy Wanjiru, 2008 Olympic Marathon Champion and one of greatest marathoners ever, has died in Kenya, aged 24.
OLYMPIC marathon champion Sammy Wanjiru plunged to his death from a balcony at his flat after his wife found him in bed with another woman.

The 24-year-old, who won the 2009 London Marathon, took gold in Beijing in an Olympic record time and was planning to defend his title at London 2012.

But he suffered internal injuries after falling from a first-floor balcony at his flat in Kenya's Rift Valley yesterday.

Wanjiru, regarded as one of the world's great distance talents, was pronounced dead in hospital after attempts to revive him failed.

Police are still investigating whether the fall was suicide or an accident.

But local police chief Jasper Ombati said the athlete's wife, Triza Njeri, had come home late last night to find him in bed with another woman. She then locked them in the bedroom and ran outside.

He said: "In a rage Samuel Wanjiru jumped from the first floor of the house and he was badly injured. When he was rushed to the hospital the doctors tried to resusciate him but unfortunately he died.

"We do not suspect foul play. In our estimation we think he wanted to stop his wife from leaving the compound."

Wanjiru had a history of domestic problems. In December, he was charged with threatening to kill his wife, Triza Njeri and the illegal possession of an AK-47 rifle - forcing him to pull out of last month's London Marathon.

Mrs Njeri subsequently withdrew her accusations, saying they had reconciled.

But Wanjiru was due to appear before a court next Monday on the charge of illegal possession of a firearm. Neighbours also claimed yesterday that he had taken to drinking heavily and was stressed by personal problems.

Ethiopian distance running great Haile Gebrselassie, who competed over 10k in Manchester on Sunday, said: "I'm totally shocked by the news. My thoughts are with his family and all his friends and colleagues."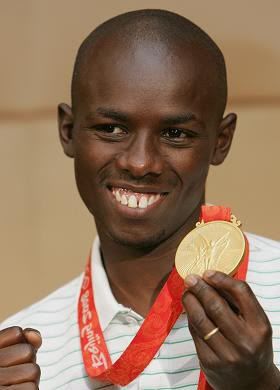 At the 2008 Beijing Olympics, Wanjiru became the first Kenyan to win a gold medal in the marathon, finishing in an Olympic-record two hours six minutes 32 seconds. He had planned to defend his title at London 2012 next year.

Jos Hermens, the manager of Gebrselassie and one of the most respected long-distance experts in the field, said Wanjiru had struggled to cope with his new-found fame and wealth.

He said: "It is incredibly sad. An Olympic champion at 21, he was poised to become the world-record holder in the marathon. He could not deal with all the luxury. It all went too fast, too much money."

As well as becoming the youngest Olympic champion since 1932, Wanjiru also set marathon course records in London and Chicago.

Kenyan Prime Minister Raila Odinga said Wanjiru's death was a big blow to Kenya's dreams of Olympic gold at London 2012.

He said: "Wanjiru's death is not only a loss to his family and friends but to Kenya as a whole and the entire world athletics fraternity.

"As an athletics nation, we looked forward to a sterling performance in the Olympic Games in London next year. Mr Wanjiru was one of our sure bets for gold in the upcoming contest. His death is therefore a big blow to our dreams."

Britain's Mo Farah, who has enjoyed several bouts of training in Kenya, also paid tribute to Wanjiru.

Double European champion Farah wrote on his Twitter page: "So sad to hear about Sammy Wanjiru. He was a legend and still so young."

American marathon runner Ryan Hall posted on Twitter: "Incredibly sad news about Sammy. I am shocked and saddened."
Samuel Wanjiru factfile
1986: November 10 — Born in Nyahururu, Kenya.
2002: Moves to Japan at the age of 15 to attend high school after winning a cross country selection trial in Kenya.
2005: September — At the age of 18, Wanjiru breaks the half marathon world record in Rotterdam, finishing in 59 minutes 16 seconds.
2007: February — Breaks his previous half marathon record with a 58mins 53secs finish in Ras Al Khaimah, UAE.
March — Breaks his half marathon world record for a third time at the City-Pier-City-Loop, Netherlands, crossing the line in 58:33.
December 2 — Made his marathon debut in Fukuoka, Japan, and won the race in 2:06.39, setting a new course record in the process.
2008: April 13 — Comes runner-up in the London Marathon, finishing in 2:05.24.
August 24 — Wins Gold at the Beijing Olympics, setting an Olympic record of 2:06.32 and becoming Kenya's first marathon champion.
2009: April 26 — Wins the London Marathon and sets a course record and career best of 2:05.10.
October 11 — Wins the Chicago marathon in record time on American soil finishing in 2:05.41.
2010: April 25 — Forced to drop out of the London Marathon at around the 17-mile mark after struggling with a knee injury.
October 10 — Wins a second successive marathon in Chicago in 2:06.24.
December 31 — Charged after allegedly making death threats to his wife, Triza Njeri, and the illegal possession of an AK-47 assault rifle. Charges also included alleged death threats to his domestic helper and wounding a security guard. He denied all charges.
2011: January 21 — Suffers minor injuries in a car accident after swerving to avoid an on-coming lorry in Bahati, Kenya.
May 16 — Dies, aged 24, after falling from a balcony at his home in Nyahururu.
Read more:
www.thesun.co.uk