Report: Junior Development Programme 2nd Circuit
By Aiman Cheah
Date: 25 June 2011 | Saturday | 7:30am
Venue: Taman Tasik Titiwangsa, Kuala Lumpur
Distance: 10 000m Category: H- Men Open (18 years and above)
Position: 5 (or rather last)
Time: 1:07:35
Full results at
www.racewalkermalaysia.com
My foot was still hurt a bit but bearable. I just wanted to do better than the previous circuit. I did not really compete with others but just went at my own pace. I think it's a good experience to walk with Dhiban Raj. He was in a fantastic form. He'd lap me every 3 laps I did! I still had 7 laps to go when he had completed the race in 46:32.
I could not share my detailed lap timing - thanks to Akmal. He played with my watch and cleared all the lap recorded!
Anyway, from the lap time published by RWAM, I could roughly remember who I had performed. I did much better in the last quarter of the race compared to the previous circuit. I managed to reduced 40 secs in the last 5 laps. Perhaps I can be more consistant in the final circuit.
I must thank ex-Chap Ayam boss - En. Ramlan for lending me his goggles on Thursday. I forgot to bring my to UM pool in my haste. Lucky to have met him. Without his help my plan for cardio work out would have failed.
Afiqah also joined me. Just for exposure. She came in second last. Last actually. She did break the race walking rule to avoid being last!
Akmal may join her in the final circuit. Perhaps, I shall give them a little training after Hari Raya.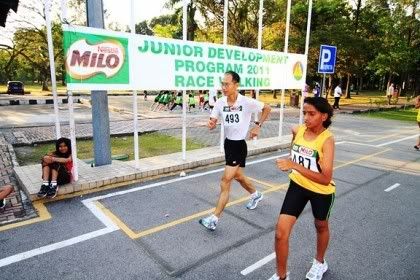 The last 20m to the finishing line.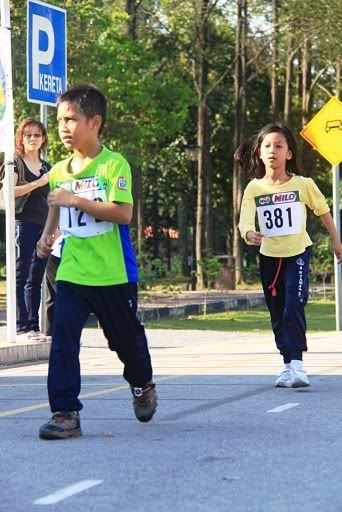 Afiqah in her maided walk event.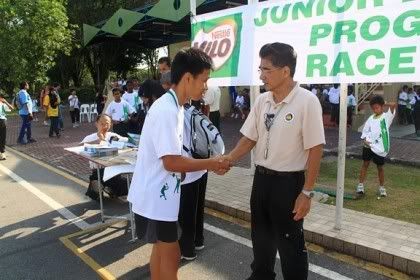 My student, Cheng Jun Wen, claiming the 3rd placing.
Pictures courtesy of www.racewalkermalaysia.com