Report: Penang Starwalk 2011
By Aiman Cheah
Date: 18 September 2011 | Sunday | 6:30am
Venue: Penang Times Square
Distance: 10km Category: Men Junior Veteran
Position: 7
Time: 1:11:57
Very lucky indeed to be able to get a medal. I have been struggling with my form after a long rest. I was very much off the pace in my training since 4 September. On 11 September I only managed to clock 2:45 per lap at MPSJ stadium.
I guessed my ex-student had lifted my morale. I was training on Friday afternoon. She stopped me to share a good news. She will be called to the Bar this Friday. This batch of students are really fantastic. Last year, I met two - one a pilot for Airasia and another a mechatronic engineer. The best part is she offered to give me a lift… I thought I suppose to work out for the final preparation for this race.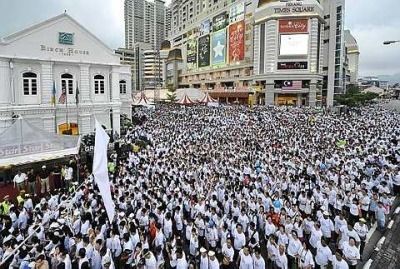 Penang Starwalk participants gathering in front of Penang Times Square before the flag-off. Some 20,000 people turned up for the event yesterday, making it the biggest ever. Source - thestar.com.my

I am not sure if the new location is better than PISA. I find it very difficult to get near the starting line for the start. I was held up for quite some time before able to make my move. Perhaps, I would have done slightly better if I had the opportunity to be on pole!
Oh, I also met my host, En. Haris. I thought he took part in the race too. He went on the capacity of the company representative.
This is my first time going to Penang on Firefly. Thanks to my colleague who managed to book me the ticket when firefly offered RM0.01 fare! I took Metrobus from Pasar Seni which cost me RM2.50 to Subang Airport. Cheaper and faster going to Penang compared to going by bus.
Thanks to Mr Aplaidoo for arranging the accommodation and I still owe Mr Suresh for the room...