New shoes - Brooks Cascadia 5
Bought another running shoes - Brooks Cascadia5. Recommend by saudara
Rozmi Yunus
. Actually he recommend new model of Cascadia6 but I prefer Cascadia5 because of color. Another reason is Cascadia5 received a lot of positive comments from the net prior to Cascadia4 which won "Editor's Choice" award from Runners' World magazine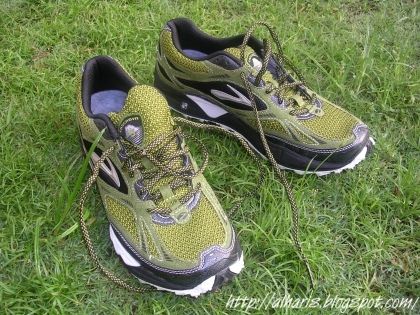 Almost a month I could not do test run because of busy weekend.. raya, raining, racing, tight working schedule. So just walk with it to office. It is fine pair of shoes for daily routine. Comfortable. But quite slippery when walking on tiles. Other surface like road, carpet, grass landscape..no problem. Sedap pakai.
Last saturday, I did a test run on trail route. 10% pavement road and 90% jalan tanah merah. Pusing Bukit Air Nasi near to my house. Exactly behind AIMST university. Base on my motocycle odometer, total distance is 13km. The route passing kampung houses, ladang kelapa sawit and bukit2.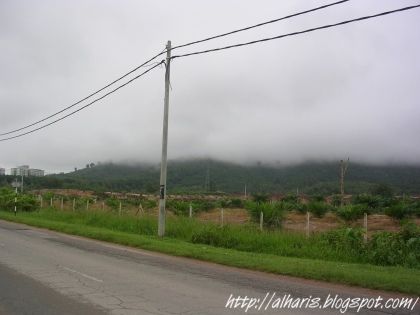 Bukit Air Nasi, covered by morning mist... nice weather that day.
Between 1~10km of running, I having no difficulty. Legs ok. Still mau lari lagi. Feet still comfortable. Stamina... fine. So far no need to walk. But somewhere after 11km, both my feet rasa macam mau develop blisters. My feet request a little bit of room. Mungkin pasai stokin?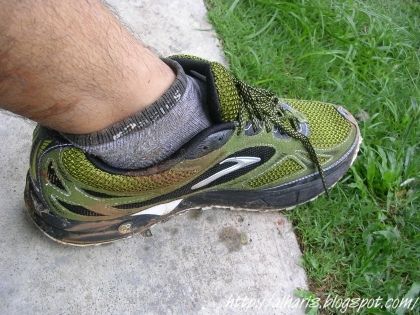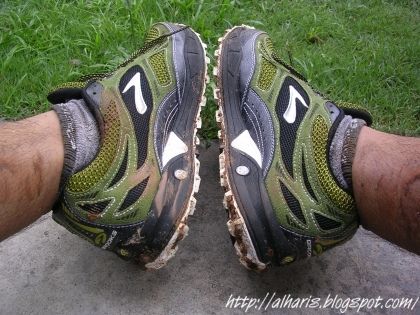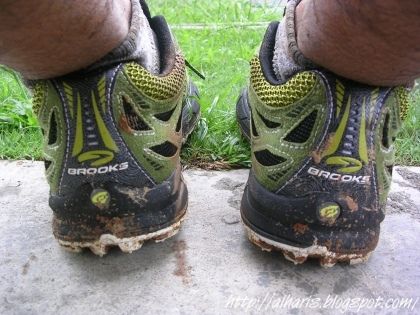 I would like to do more test.. but I running-out of trail track - Sudah sampai rumah. Teh-O limau suam dok tunggu.
Belek kaki...emmm belom ada blister. Think, i need to test more distance on this shoes. Maybe >20k... after Penang Bridge Run.