Report: Charity Fun Run - Spreading Love with Every Step
By Aiman Cheah
Date: 25 February 2012 (Saturday)
Venue: Universiti Tenaga Nasional, Putrajaya
Category: Men Open
Distance: 6km
Time: 28mins 30 secs
Position: unknown
A charity run for Orang Asli community of Kampung Rasau, Slim River, Perak. I think this is a very affordable run.... charity run you can find nowadays. Although I had known about the event a long time ago, I only decided to go a week before the event after my student was interested in the event.
It was a well organized event. However, I feel that the events nowadays suit more the the Y Generation. The volunteers had a good laugh when I took a cup of isotonic drink and put back with the remark "banyak sejuk". In other events, the drinks are chilled. This one is a step better. Ice cubes are still there! I lost about half a minute getting the normal temperature drink and the volunteers were very helpful. Sorry to have inconvenienced them.
My students were having good form. Cheng Jun Wen finished 2nd with the time of 21 minutes 25 seconds and Sudhan finished 4th, a minute behind Cheng Jun Wen.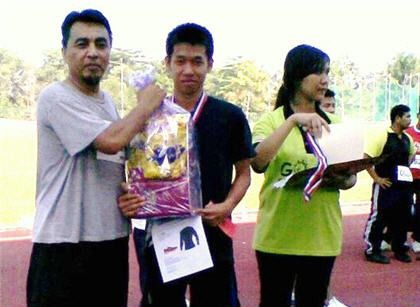 Cheng Jun Wen - 2nd in Student Open Category. 21:25. Picture courtesy of Sudhan Sakthi Gopal
I felt it was a little under distance because I'm too old to run fast. To run under half an hour for 6km is no longer an easy task. It would be a struggle even to complete in 30 minutes. True enough one runner claimed it was only 5.58km.
Before prize presentation. Sudhan was asking me about shoes as he intended to get a new pair. Cheng Jun Wen said he had just got a new pair. So after the prize presentation, both were very happy. Why not? A RM200 voucher for Newton shoes!