"We Care" Charity Fun Run 2012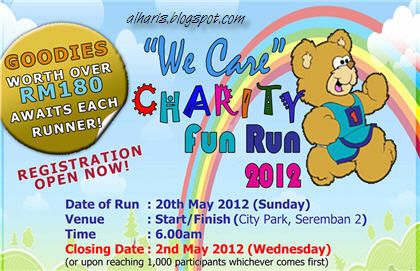 Date: 20 May 2012 | Sunday | 6:00am
Venue: City Park, Seremban 2
Distance: 7km
Category: 5 - 2Men, 2Women and FunRun
Contact: mohd.ashraf@columbiaasia.com or
6033988 ext 2928
It is a charity event. Detail and registration form yang cantik available at Forms and Events section.
Dear All,
Hi, I'm Ashraf from Columbia Asia Hospital Seremban. We will organize Charity Fun Run in collaboration with IJM Land on 20 May 2012, at City Park Seremban 2. All proceeds from the charity fun run after the deduction of all expenses will be channelled to the selected beneficiary – Hospice Malaysia (Seremban Branch).

For your kind information, this 7 KM run will be divided into 5 categories,
A. Women Open (16 – 39 years old)
B. Women Veteran (40 years old and above)
C. Men Open ((16 – 39 years old)
D. Men Veteran (40 years old and above)
E. Fun Run (Max 5 runners per team) for family and corporate
Top 5 runners will receive a cash prizes worth RM 300 (1st place), RM 200 (2nd place), RM 100 (3rd place), RM 80 (4th place) and RM 50 (5th place) for all category. All cash prizes will come along with "We Care" Bear and Thermoskin products worth RM 100. Only top 50 runners will receive a medal.

Fun Run participant is required to wear their unique and creative costume. The best costume will receive hamper worth RM 200 (1st prize), hamper worth RM 150 (2nd prize) and hamper worth RM 100 (3rd prize). Thermoskin products worth RM 100 are also waiting for all best costume winners.
Participants are required to pay RM 30.00 fee for category A to D while RM 10.00 per pax will be charge for category E. Kindly download the attachment for events poster and entry form. Appreciate if you could advertise this event on your blog. Kindly contacts me for any further information regarding this event. Thank You.
Regards,
Mohd Ashraf Bin Mohd Arif
Marketing Deparment,
Columbia Asia Hospital
No. 292, Jalan Haruan 2,
Oakland Commercial Center,
70300 Seremban,
Negeri Sembilan Darul Khusus
Malaysia