Walk A Payung 2012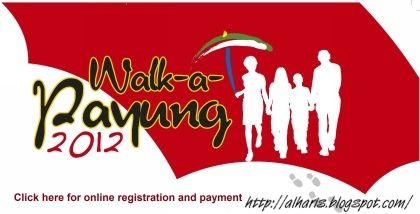 Date: 20 May 2012 | Sunday | 7:00am
Venue: Tropicana Medical Centre, Kota Damansara, PJ
Distance: 3.7km
Contact: 03-7957 7672 | pslemhq@gmail.com
Website:
http://www.lupusmalaysia.org/
Date: 27 May 2012 | Sunday | 7:00am
Venue: Columbia Asia Hospital - Nusajaya, Johor
Distance: ?
Contact: 07-2339999 | pslemhq@gmail.com
Website:
http://www.lupusmalaysia.org/
Dear Friends,

Persatuan SLE Malaysia (PSLEM) hopes that you, your family and friends can come and walk in support of Lupus patients at Walk-a-Payung 2012, this Sun, 20 May, starting from Tropicana Medical Centre in Kota Damansara, Petaling Jaya.

For your information, PSLEM provides social and psychological support and financial assistance to people suffering from Systemic Lupus Erythematosus (SLE), or Lupus for short, an auto-immune disorder in which the patient's body produces antibodies that attack his/her own tissues.

PSLEM is targeting for 1500 participants to walk with opened umbrellas on 20 May (in conjunction with World Lupus Day 2012) to create public awareness on this lesser-known disorder and to raise funds for joint replacement and cataract operations for needy SLE patients (the side-effects of their steroid medication). The umbrellas are to show that SLE patients have to avoid too much sun, which can trigger a relapse.
Time
Registration starts 7.00am, together with free health checks and Food & Fun Fair. Walk starts 8.30am.

Route
A 3.7-km walk starting from Tropicana Medical Centre (TMC) in Kota Damansara. For those who are not familiar with Kota Damansara, TMC is after Sunway Giza Shopping Mall if you are coming from the LDP. It's next to SEGi University College.

How You Can Help
1) Collect donations with our donation cards totalling at least RM50 and come on 20 May to register, collect your t-shirt & umbrella and walk. Call 03-7957 7672 for donation cards.

2) Visit our website www.lupusmalaysia.org for online registration and payment (RM50 per person) and come on 20 May to collect your t-shirt & umbrella and walk.

3) Companies that donate a minimum of RM1,000 can send your company team to walk with your corporate t-shirts and banner.

All donations are tax deductible. Walkers get a t-shirt, umbrella, breakfast, and goodie bag, and will be eligible for lucky draw & fun quiz prizes.
Thank you & warm regards,

Chee Siew Lian
Walk-a-Payung Organising Committee
Persatuan SLE Malaysia.
3rd floor, Bangunan Sultan Salahuddin Abdul Aziz Shah
16, Jalan Utara, 46200 Petaling Jaya, Selangor
Tel: 603-7957 7672 Fax: 603-7957 0407
E-mail: pslemhq@gmail.com
Website: www.lupusmalaysia.org