Report: Larian Morib 2012
Date: 30 December 2012 | Sunday | 7:30am
Venue: Morib Beach, Kuala Langat, Selangor
Category: G (Men Open 10 years and above)
Distance: 5km
Result: Finisher Medal
Time: 26mins 19secs
A 'cheap' event at RM10 per participant. I reached at the venue at around five past seven. I heard the annoucement that the flag off would be soon. It could not be because the 5km was supposed to start at half past seven. The sky was getting darker and it looked like it was going to pour soon. It did and the participants ran helter skelter looking for shelter.
I was not panicked as I had an umbrella with me.
Then about a quarter past seven the runners were called to the starting line. It was the start of the 12km category. Actually, the flag off had been delayed.
It was only drizzling by the time my category was flag off. I ran a slow race..... the was I had been 'training'. The route was almost parallel to the beach so the runners could enjoy the sea view. The wind could be strong at times.
There were more than five runners coming back before I reached the U-turn. That was very normal at my snail's pace. I was comfortable because I was not overtaken by other runners after 5 minutes of running - probably I was as the back of the grid!
I felt just as good as the Chardikala Run and I was happy to get a finisher medal - the first medal in an open race since Larian Menara Condong dan Bendang in Teluk Intan since April. Well outside top 20 and well outran by 10-12yrs old boys!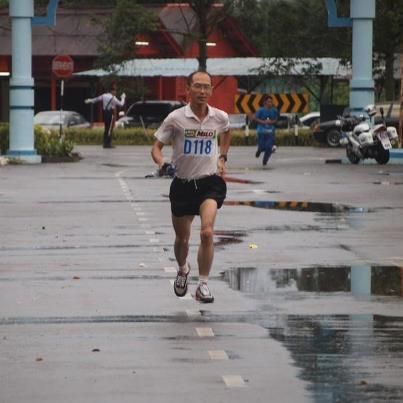 About 20 metres from the finishing line. Courtesy of Mr Yum Kin Kok who tagged my photo.
I find the event was a little dragging as the lucky draws ended at noon! Akmal with the running bib D119 won a hamper.
Wishing all readers Happy New Year 2013.