LivingSocial - 5km Zombie Run

Date: 16 November 2013 | Saturday | 4:00pm
Venue: PJ State, Padang Utara Petaling Jaya
Website:
www.livingsocial.com
Ever wondered what it'd be like to live in a zombie-infested world? Then get a taste of the undead with LivingSocial's 5km Zombie Run! Run for your life through a 5km course while evading a legion of merciless zombies. Don't have the guts to survive?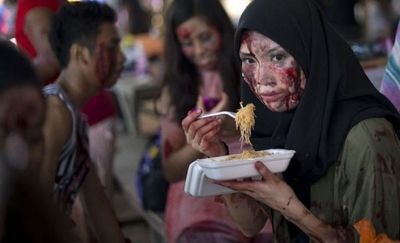 ..image from weehingthong.wordpress.com

Get transformed into a terrifying zombie instead and scare the brains out of mere mortals! Runners and zombies will then reconcile at an apocalypse after-party that's to die for, featuring music, refreshing drinks and human-friendly food.

So put your speed or lifeless movements to good use at LivingSocial 5km Zombie Run, and have a bloody good time at this thrilling event!
Labels: event, run, run for fun