Buah Tangan from Yala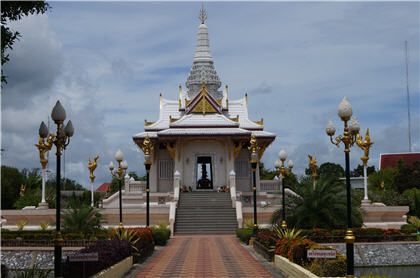 Sateng at center of Yala roundabout
Not really 'buah-tangan'. Just an info. Because I only post all events in this blog with hard-copy form or banner. Words of mouth, I consider khabar angin including this one.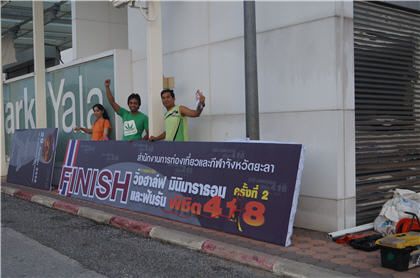 Alhamdullilah.. return back home safely without any hiccup. I went with 3 others office-mates and one of them just start running a few months. From KL. It was his first time ran in Thailand and finish 10km in 1+ hours. His next event is
BSN night marathon
..anyway he already asking more event in Thailand.
On my second visit to
Yala
, I found 3~4 interesting places to visit. Especially local foods outlet/restaurant and local market. I will write-up a report soon.
Back to post title - Buah Tangan. I heard from trusted sources..
1. Betong's runner
2. En.Kamarulzaman
3. Base on previous event.
Probably
the 6th Betong-Tanoamaeroa Minimarathon is on
7 December 2013 (Saturday)
. As I post this, there is no hard-copy registration form yet.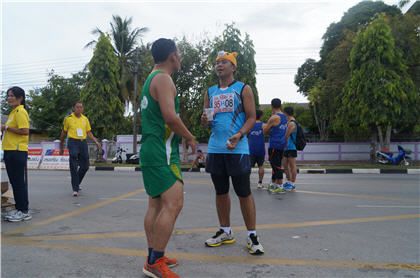 Betong's Runner - he was 4th last year but no top10 placing this year.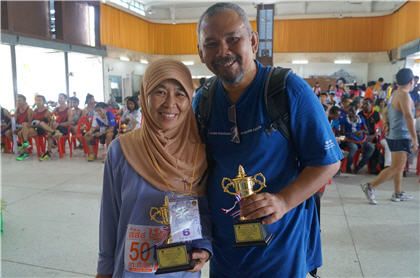 En.Kamarulzaman with spouse and 2 girls - suda syiok lari in Thailand.
Previous event date..
01/12/2012 - Saturday 2555 (5th year:
Album
)
03/12/2011 - Saturday 2554 (4th year:
My Running Report
)
04/12/2010 - Saturday 2553 (3th year:
Blog's post of Buah Tangan
)
12/12/2009 - 2nd Saturday 2553 (2th year:
Event Form
)
Yap! Seem December is school holiday and event on Saturday.. I'll mark on my running calendar.
Labels: info