Team Malaysia Fan Run
By Aiman Cheah
Date: 1 December 2014 | Sunday | 7:00am
Venue: Dataran Putrajaya, Precint 3, Putrajaya
Distance: 15km - 3km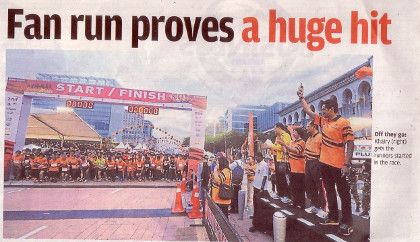 Flag off for 15km
This edition is more 'community oriented' as not everyone could run the 10km or 15km distance.
The fun run fee was reasonable at RM20 with medals, certificates and the tiger t-shirt.
It was a good morning walk albeit with a price. Afiqah and Akmal were happy after the post event as there were game booths and inflatables.
Datuk Ong Kim Swee was there too and he was kind of a celebrity and obliged when fans wanted to take photogrphs with him.
The Fun Run Category
Pictures courtesy of StarMetro, Wednesday 11 December 2013