Report: Run To Gain 2014
By Aiman Cheah
Date: 01 March 2014 | Sunday
Venue: Taman Tasik Titiwangsa
Category: Kids (12 years old and below)
Distance: 2.5km
Afiqah Cheah: 3rd (15:43)
Akmal Cheah: last (but not least)
I acted as a manager cum pacer for my children as I was having health issues. Couldn't run fast lest I ended up in HKL which is just a stone's throw away from the venue.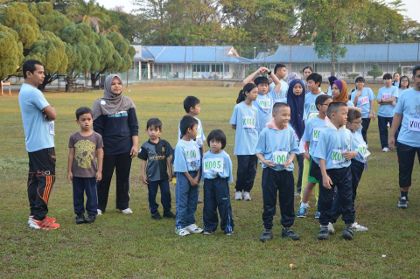 Afiqah & Akmal (hidden) during briefing
Afiqah & Akmal after the warm up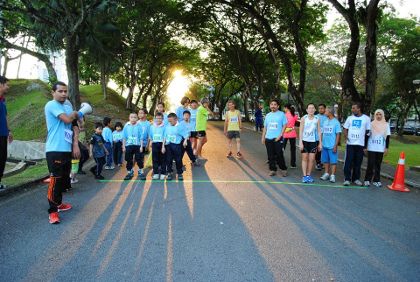 The start - both started from behind for safety reasons
I asked Afiqah and Akmal to start from behind because they were not trained for explosive start. Children will be children and I have seen enough children fall at the start.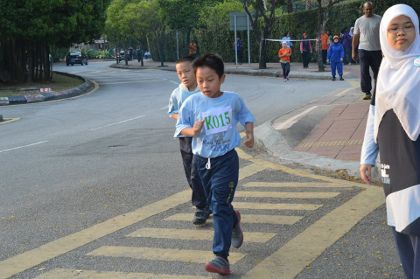 Akmal at the beginning of the race.
The first 500 metres was good as Akmal managed to follow closed behind and we were within the top 7. Then he complained of stomache and began walking. We tried to keep pace with the leaders and managed to close the gap but Afiqah requested to walk and I thought it was okay as the leaders were walking too.
I only allowed her to walk for 15 secs and then run again. We managed to overtake 4 other runners with the run walk strategy. In fact in the last 500 metres, we walked for as long as 30 seconds! It was a good result for Afiqah. Her first podium in a running event!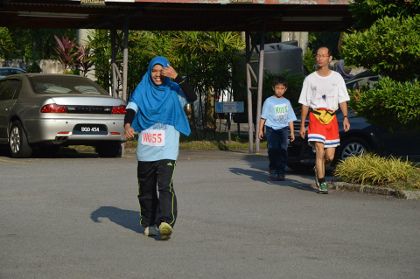 Akmal coming in last.
I waited for about 3 minutes for Afiqah to catch her breath before looking for Akmal. I was quite worried as I had 'lost' him twice - once at the zoo when he was 3 and once at the library when he was 5! When I saw him, he was hardly half way and fortunately it was near the toilet.
I was in the nick of time as he needed to use the toilet. After was done, we walked and jogged back. That was a two consecutive lasts in running event, the earlier one was in the Milo X-country.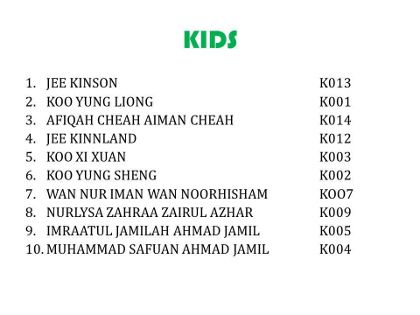 The result
The run was well organized but the prize giving was too late... waiting for the VIP. Only medals were given to the top 10 runner in the Kids category.
Pictures courtesy of RunToGain