Training: Week2 Feb07
Mon: Rest
Tue: (Run) Home - Ladang Thye Eng. 9k. 44:23
Wed: Rest
Thu: (Run) Home - Ladang Thye Eng. 9k. 43:26
Fri: Rest
Sat: (Run) Home - Ladang Thye Eng. 9k. 42:39
Sun: (Bike) Home - Pantai Merdeka. 116km
Thanks. My leg getting fine but a bit painful if i try to run on continuous day. Need a month ++ to develop/built mental strength to run half.
Sunday 11 Feb07: Redah Pantai Merdeka.
Only 5 of us. Tok ketua could not join. Fauzi, Art and Tay wait us at Tikam Batu. After sending kids to school, quickly londeh seluar panjang and my cycling tight already inside. Capai gerek which i already bersiap dia since last night.. Zzzaaaasss kayuh to Reza's house Sg Layar. 10km.
From there, both of us heading to Tikam Batu using main road. Another 15km more. Speeding pepagi. Ingored the traffic, just extra careful and slow-down when crossing red light.
We rotated the cycling position to reach Tikam Batu on time. Dia tarik aku. Aku tarik dia. Good thing about Reza.. he also loved speeding and endurance.
@Tikam Batu.
Meet-up Mr.Tay. Waahhh.. lama tak jumpa dia. Last time meet him when i first join rode with this group. He got alot of advance gadgets on his bike.
The Route
Tikam Batu - thru Jalan lama (pi Butterworth) - Permatang Bendahari - Pekan Kota - Kuala Muda - Pulau Sayak - Pantai Merdeka - Pekan Kota - Tikam Batu.
That was group ride route but after that, me and Reza doing extra mileage.
Tikam Batu - Jalan Baru Amanjaya (Western Bypass. Passing Sg Petani town) - Bandar Perdana - Jalan Kuala Ketil - Strand Hospital - Bandar Laguna - Jambatan Semeling. Then aku turn right balik Bedong while Reza took left balik Sg Layar.
@Kuala Muda.
Lepas dilanda
tsunami
... la ni kampung Kuala Muda dah okay dah. Macam kampung biasa. Tapi kesan paras air dan rumah tinggalan masih terdapat lagi.
@Pulau Sayak dan Pantai Merdeka.
Ada 3 bukit kategori 4. Boleh tahan jugak. Had a breakfast with nasi putih + telur 2 bijik.
Return to Tikam Baru.
Staying in a group and rode hard. Since tok ketua tak dak... Chief cakap only 33km/h.. Starting from behind of the group, i kept looking at speedometer. Yang depan asyik dok tukaq position. Drop and ride depan aku. Drop and ride depan aku. Aku tak bleh pi depan. - Pantang.
Then.. can't tahan already. Aku lead depa + tarik depa semua until 36-38 and maintain for 5km. While speeding, i kept checking for other behind incase sesapa tercicir.
For me.. it should be a team-work. Start in group and end pun.. should be together.
Until pekan Kota.. Tarik napas and easy ride. - Marah betul depa hahahaaa..
Between Pekan Kota to Tikam Batu.. could not kayuh laju. Angin lintang kuat. Mai dari kawasan bendang.
@Tikam Batu.
My mileage shown 80km. Aku dgn Reza kena continue another 15km to return home. Lelain dah buka taya masuk dalam reta. Reza racun.. ajak balik ikut jalan long-cut. Western-bypass. Jalan AmanJaya.
11:15am. Panas terik. Plain water 3 bottles + 100Plus 2cans. Legs.. lembik. Luckily ada trelar panjang. So both us keep on pedaling and tailing until reach the main road. Passing Bandar Laguna Merbok town-house and we split at Jetty Semeling junction.
Pheeew. Another pit-stop at Pekan Semeling. 1 mineral water and 1 100Plus.
Safely reach home.
Sunburn again.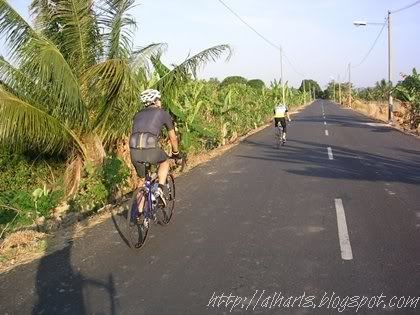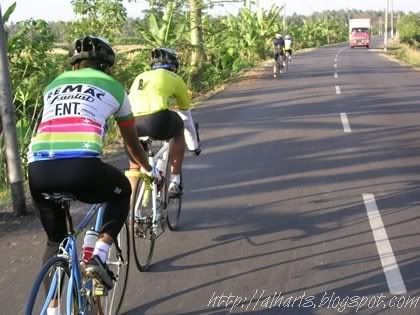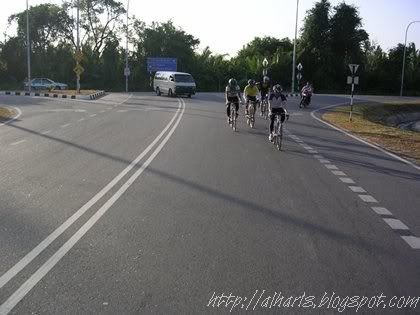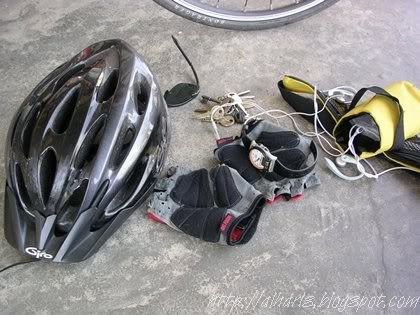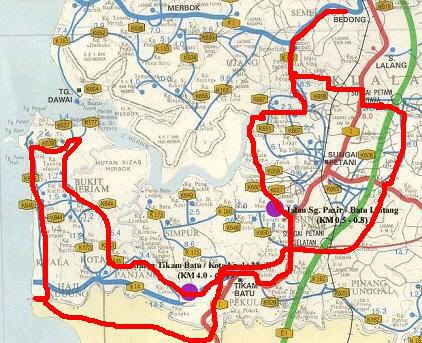 Labels: Pantai Merdeka, tsunami