Run.Mabuk.Bukit!
A trail run event, joinly organized by The Brats Sport Club. Hash House Harriets, Full Throttle Adventure Club and Tuesday Hash Kakis of Penang. For 2nd year this event not offer any finisher medals or winners prize. Just having fun alot with beers and friends.
The word "trail run" captured my intention. More >20km of route course cover from Batu Ferringhi to Botanical Garden or better known as Kebun Bunga - a place full of monyet nakal. Passing Penang Hill Top Station, Laksamana & Olivia, Western Hill... sound interesting (never been there).
Sapa nak cop 2 tin beer? :P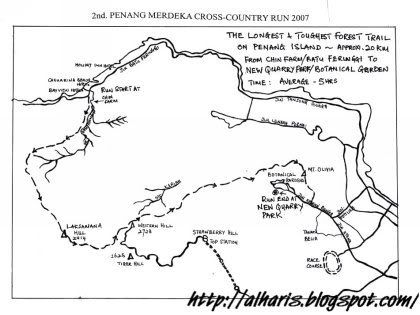 2nd Penang Merdeka Run
Date: 1 September 2007 (Saturday)
Time: 9:00am
Venue: Start/End, Chin Farm, Batu Ferringhi / Quarry Park, Botanical Garden
Distance: >20km
Form available to download at Forms and Events section.