Report Great Eastern Pacesetters 30km 2008
By: Aiman Cheah Tiong Chap
This is the third attempt to run the race below 3 hours but alas I had to do some walking to complete the race. I thought I had the best preparation compared to the past two editions but I was not feeling well during the last few days before the event.
Two weeks before that I was very confident and was doing reasonably well. I managed to do 16.8km in 1 hour 31 mins, 16.8km in 1 hour 25 mins and 12.6km in 1 hour 09 mins on the 6th, 8th and 11th Jan respectively.
Actually this 'training' is two in one, hoping to do below 3 hours for the 30km and below 1 hour 15 mins for the Press Run in Kuching the following week. Once I got the news that the Press Run is postponed, my motivation is somehow affected. I had another 3 sessions of 'training' at much slower pace because I had "wind" in my upper abdomen and it was troubling me.
Anyway, I managed to run 16.8km in 1 hour 35 mins, 18.9km in 2 hours and 6.3 km in 44 mins on 14th, 16th and 18th Jan respectively. The last run had indicated how I would fare in the race.
Race Day
Got a morning call from Kevin Chow, PM32 at 4 a.m. The most reliable person to wake me up since I longer drive my students to races. Normally they are the ones who help to wake me up. Well, if I am late, they will be late too – as simple as that.
Reached the starting line about 10 minutes before the race started. Did some stretching and as always, started from the last line as I won't be competing against other runners but against myself. Felt comfortable with breathing because it was at a snail's pace in the beginning.
Once out of the Lake Garden, I stepped up the pace but I guess I was doing around 6 mins per km. My 'ideal' pace to crack the 3 hours barrier. Managed to get ahead of Kevin Chow and Ryan Teoh, PM17 along the way. I had a pleasant surprise when someone called me near Jalan Duta. Guess who? It was my host for this report. Sorry, Haris, mata sudah pinar dan tercungap-cungap to recognize anyone!
Actually, I was still comfortable when going up hill until the last 10km. My thigh muscles were giving me signals and I had done 2 hours 7 mins. No way to do a sub 3 hours! My intention then was just to complete within the qualifying time. I was overtaken by Kevin and Ryan at Sri Hartamas. Began to stop and massage my thigh muscles and jogged. Concerned runners asked if I was okay while some gave a cynical smile which is usual.
I was glad to see the sign '4km to go' because my watch showed 3hrs 03 mins. I knew I would make it. Stopped and had endurance drink at the water station and it was jogging and stopping for massaging all the way. I had done 3 hours and 19 mins with one km to go.
Suddenly I remembered that I did not start my stop watch at the same time when the horn was blown. Quickly stepped up my pace and 'sprinted' home with 50 metres to go. Already teruk also could still overtook three runners. My timing was 3 hours 23 minutes 58 sec and I received the finishing card – 402. Still better than my 3 hours 28mins 06 secs in 2006. However, I found the quality of runners have improved tremendously. In 2006 my overall position was 295.
After the race
Though I may not have achieved my 3 hours target, I did not suffer so much after the race. In the past I could only managed 3 times of 10.5km race a week before the race. The legs felt sore for two or three days. This time around, I could climb the stairs without much pain and the sore was gone by Tuesday.
I will certainly be back again next year. This 30km race is special for me because it is the longest race that I have ever participated in. Still dreaming of my first marathon.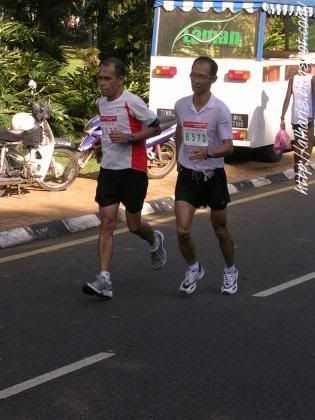 B572, Aiman still managed to overtook a few meter to Great Eastern Pacesetters 30km 2008 finish line.
Labels: report