3 weeks
3 week not running make me happier. When i left the jog exercise/training for along time.. rasa seronok plak dok rumah. Tak perlu penat-penat lari - torture my own body.
But.. looking to myself in the mirror.
"Pundek! i need to go out today."
"But.. you said you're comfortable and happier for last 3 weeks.. why need to go out today? For sure 2-3km after that.. merana"
said dark side of voice a.k.a kaki.
Okaaay..
"Who want ronda-ronda kayuh basikal with me?"
Yeah! i got majority answers.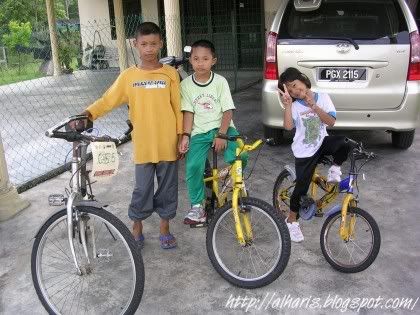 Kids escort me with bikes and i jogged in the middle. We went to Taman Harmoni through trail route passing hutan kelapa barli (kelapa sawit), hutan pokok getah, thru laluan tanah merah.
After 25mins we reach Taman Harmoni houses and i felt good + kids were enjoy although both of them felt from bike twice, with minor bleeding.. they still laughing. So i continue running thru quarry road for another 10min to bukit kuari.
After take-5 and enjoy the scenery, we return through same route and reach home 1:15hour later
Finally.. hasutan kaki kalah after 3 week idle and i did >1hour running
"Ayah, esok kita kayuh lagi?"
said Jasmin
..and they escort me for another 12km to Ladang (kelapa sawit) Thye Eng on next day.
Jasmin dodoi adik in chinese version
Labels: training