Report: Ipoh Starwalk 2010
By Aiman Cheah
Venue: Stadium Indera Mulia, Ipoh, Perak
Date: 6 June 2010 (Sunday)
Time: 7.00a.m.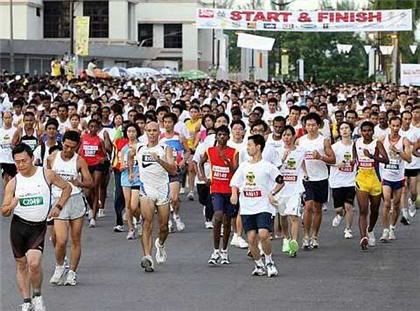 Mr Lim Thean Seng (C2049) was among the front walkers to break from the group
Picture courtesy of the Star/Star online
I supposed to be more prepared for this event, unfortunately the weather was not on my side......it rained whenever I needed to do my work out.
I was a little disappointed with Merloon Hotel. Can't blame them because occupancy is always 100% for Ipoh Starwalk. There is no point of booking rooms because they won't reserve the rooms that you want. Anyway, it is still good for walk-in guests. I hope I don't have to stay there any more in future. This should be the last time staying there. The place is no longer convenient because the event has been moved from Dataran Ipoh to Indera Mulia Stadium.
Coming back to the walkathon, I did quite well considering the way I prepared for the walk. Unbelievable. The only training or rather straining I had was a day before the walk. No chance to train at all because the weather followed my schedule! I did 1:07:14 for 10.5km. That was very good and I was confident of clocking a slightly better time in the event the following day.
There was a little bit of miscommunication with Mr Naidu early morning. All the Starwalk participants left the hotel as early as 5.45a.m. Mr Naidu was supposed to go to the stadium with me but unfortunately, he went back to his room. I told him, I would would meet him in 5 minute's time when he gave me a call.
I took more than 5 minutes to get prepared. When I took my van it was close to 6 a.m. I just went one round in front of the hotel and there was no one to be seen. At 6.00 sharp I decided to leave thinking that Mr Naidu had left.
I reached the stadium before a quarter past six. Still ample time since reporting closed at 6.45 a.m. I did not feel so bad when I met Naidu at the stadium and he told me I had actually left him ... he got a lift from a fellow participant.
There were not too many people in the competition catergory this year. Any way, I was too slow to move to the starting line, only managed to be on the 10th row from the grid. I would prefer to be a little in front.
Fortunately, I was not blocked. In fact my start was just too good. I was in front of many established walkers during the first few minutes. However, that did not last long because of my fitness level. I was struggling after about 20 minutes. I drank water at the water station.
Luckily, I felt better and began to catch up with other walkers. I was aiming to overtake Yu Song's daughter. I had lost to her last year - never mind in different category. I caught up with her after about 55 minutes. I was struggling to maintain my pace. I had to ask for water from the St John/Red Crescent on duty twice after the water station.
I went all out in the last 100 metres to overtake one participant in my category. If he had walked faster, I would have given up. Luckily for him, both of us were out of medal contention. I was 13th. It was a fat chance to get a medal.
When the results were released, I was promoted to 12th with a time of 1:08:47. The time would still stand at 12th in the Men Category. I was some 3 minutes faster than last year but 4 minutes slower than in 2007 and 2008. I hope medal draught does not continue next year.
At present, it will be a Herculean task for me to give a strong fight to my competitors in the coming Malaysian Masters Open in a fortnight. Lim Kok Cheong was 8 minutes ahead of me (1st in my category) and K. Jayapal (4th in my category) was 6 minutes ahead of me. I hope to at least maintain my fitness level to enable me to fight for the last podium finish.