Report: New Straits Times MPSJ Carnival & 10km Run
By Aiman Cheah
Date: 13 June 2010 (Sunday)
Time: 7.30 a.m.
Category: A - men open
Distance : 10km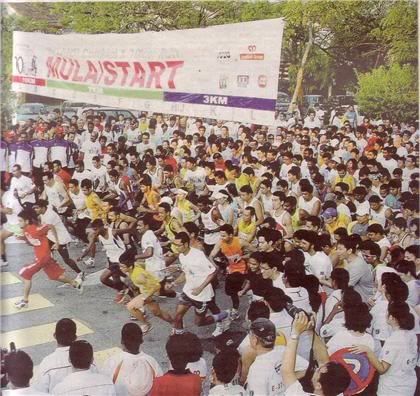 Picture courtesy of The New Straits Times
This event was supposed to be held earlier but was postponed due to the Hulu Selangor by election.
I think I was slightly more prepared for this race compared to last week.
Wednedsay: 2000 swim
Thurdsay: 2400 swim
Friday : 6.3km run & walk
Saturday : 6.3km run & walk in 33:03.7
After a week of holidays, I felt more relaxed but fitness was still a big issue. I still had the speed but unable to sustain the pace. I walked just after 20 minutes of running. However, my target was still to complete the race in less than an hour.
It was quite disappointing having to stop several times. I took mineral water at check point 4 and 7 and was hoping to get some water after check point 8. Unfortunately, check point 8 was the last water station. Ambank was too generous with water.
I completed the race in 53:35. I am looking forward to improve my fitness although time is running out. Perhaps, getting more rest will do the trick.