Report: Men's Health Shape Night Run 2011
By Aiman Cheah
Date: 30 July 2011 | Saturday | 8:20pm
Venue: Kompleks Perbadanan Putrajaya, Presint 3
Category: Men Junior Veteran
Distance: 12.3km
Position: 45
Time: 1:07:38.2 (Gun) & 1:05:17.6 (Chip)
The second last race before Ramadhan. I was still in a good shape due to regular races in the previous week. Confidence was also boosted after the Seremban Half Marathon. I would not go beyond 8km if I were to run. With the weekly mileage of less than 20km, it is impossible to get good timing.
Unlike last year where I was late to go the starting line, I was slightly earlier but the crowd was already there very much earlier. No way to get to at least to the middle pack. Instead of starting right at the back, it was at least about 5 rows from the back.
With many runners and narrow road, overtaking was difficult. I had to run on the curb most of the time before the first water station. This year was so much better. There were ample of drinks ready for the runners. If the first water station which was the most crowded was ready to quench the runners' thirst, the rest should have less problem. Thumbs up to the organizer!
Although in the Junior Veteran category, I should have registered in the Men Open. After reading the registration form, I noticed that only 50 medals were offered in my chttp://www.blogger.com/img/blank.gifategory. I could end up with no medals. The previous year I was 67th with 100 medals on offer.
Things did not look good as my right calf was signalling for impending cramp just after the first water station. That was hardly 5km!
I managed to keep a constance pace up to 11km. It was a struggle after that. It was frustrating to be passed by other runners. I was reduced to walking and jogging in the last 500m and a few runners were concerned enough to see if i was alright. I had to limp all the way to the finishing line. Glad to receive no. 47 finishing card! Just made it.
My children had a fun time while waiting for me. I did not hang around there too long as I have another race the next day and a whole day for a seminar - lest I doze off in the hall!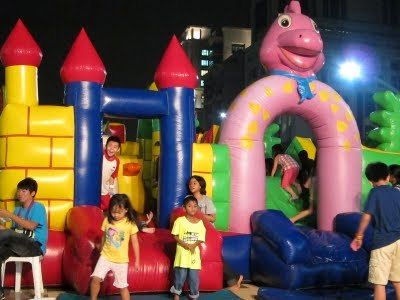 Kids' attraction. Courtesy of www.mzulkifli.com