Report: CICM Responsible Care Run
By Aiman Cheah
Venue: Setia Alam Welcome Centre, Shah Alam
Date: 13 November 2011 | 6.15 am
Category: B Men Veteran
Distance: 21km
Time: 2hrs 12mins 08secs (own sweet time)
Position: 98th
Organizer: Pacers Sports Enterprise
It was a nice feeling to complete a 21km race after a long break. I only 'train' for a week after a long rest due to sickness after the Perhentian Island Challenge. That challenge literally 'hentikan' my good form and I had to start from scratch 3 weeks of rest!
I reached Setia Alam Welcome Centre 10 minutes before the start. Unfortunately, I could not find a spot for parking and took a wrong turn to go to the building from behind. That was it. Any way, since my target was just to complete and not compete I just walked slowly to keep my luggage after parking along the road which was about half a kilometres away!
I took about 30 minutes to catch up with those tail end runners. There I found out that I was about 12 minutes late!
I started to walk and run with 9km to go. Not really due to out of breadth but more of a bad habit.
Anyway, to complete in less than 2hrs 30mins is good enough... the standard cut off time for finishing medals for the distance.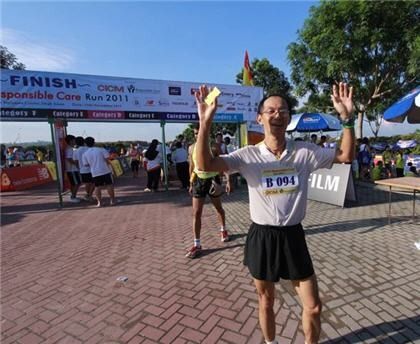 Picture taken by Mr Yum right after the race.