Jogging Week4 December 2011
20 November 2011 | Tuesday | 1:15pm
Route: Sport Complex
Time: 50.09mins
Randomly playing on my mp3 player - [John Farnham - Whispering Jack]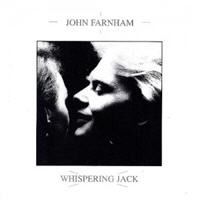 01 -
Pressure down
.mp3
02 -
You're the voice
.mp3
03 - One step away.mp3
04 - Reasons.mp3
05 -
Going, going, gone
.mp3
06 - No one comes close.mp3
07 - Love to shine.mp3
08 - Trouble.mp3
09 - A touch for paradise.mp3
10 - Let me out.mp3
This is Australia's most successful album. On 21 November 2006, Whispering Jack was re-released to celebrate its 20th Anniversary. Semua lagu sedap and bersemangat kalau dengar.
22 November 2011 | Thursday | 1:15pm
Route: Sport Complex
Time: 50.49mins
Randomly playing on my mp3 player - [Rahim Maarof - The Best of (1993)]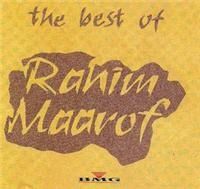 01-Sensitif.mp3
02-Cinta Kristal.mp3
03-Layang-Layang.mp3
04-Ku Tahan Sebak Di Dada.mp3
05-Jangan Kau Rayu.mp3
06-Kasihku.mp3
07-Istana Menanti.mp3
08-Mutiara.mp3
09-Akhirnya Ku Mengerti.mp3
10-Hutan Batu Kosmopolitan Hutan Hantu Metropolitan.mp3
11-Woh Woh Rentak Dunia.mp3
12-Hipokrasi.mp3
Rahim Maarof - Diammu Jeritan.mp3
Rahim Maarof - Usang.mp3
Rahim Maarof & M.Nasir - Falsafah Cinta.mp3
Rahim Maarof & Yantzen - Tiada Lagi Aku.mp3
Layan when I was in Sekolah and ITM
25 November 2011 | Sunday | 7:20am
Route: Trail Run. Round Bukit Air Nasi, To'Pawang, Ladang Harvard, Taman Sinar Mentari, Pekan Bedong and Home
Time: 2:52.36mins
Randomly playing on my mp3 player - [Casiopea - Asian Dreamer CD1]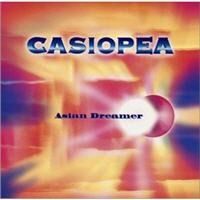 01 -
Asayake
.mp3
02 - Space Road.mp3
03 - Midnight Rendezvous.mp3
04 - Domino Line.mp3
05 - Hosiozora.mp3
06 - Black Joke.mp3
07 - Eyes of the Mind.mp3
08 - North Sea.mp3
09 - Misty Lady.mp3
10 - The Soundgraphy.mp3
Randomly playing on my mp3 player - [DefLeppard - The Definitive Collection CD2]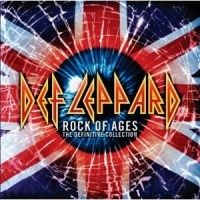 201-rock_rock_(till_you_drop).mp3
202-let_it_go.mp3
203-high n dry (saturday night).mp3
204-too_late_for_love.mp3
205-
no_matter_what
.mp3
206-
promises
.mp3
207-mirror mirror (look into my eyes).mp3
208-women.mp3
209-another_hit_&_run.mp3
210-slang.mp3
211-stand_up_(kick_love_into_motion).mp3
212-rock_brigade.mp3
213-now.mp3
214-paper_sun.mp3
215-work_it_out.mp3
216-die_hard_the_hunter.mp3
217-wasted.mp3
218-billys_got_a_gun.mp3
I'm big fan of Def Leppard!
A trail run on X'mas holiday. Alauddin and Jasmin join me with their bicycle. We start at 7:20am and safely back home at 10:15am. Also a test ran with new Deuter HydroLite2.0 bag. Bought 2 week ago via internet.
First time ran with 1.5 liter water of bagpack was quite annoying - dengar bunyi ayeq berkocak, so I listen to mp3 songs.
My Brooks Cascadia 5
... eemmm not really friendly with my feet. Each time I did trail run, musti ada blister terbit on same spot. Kali ini ada extra. I got 3. Duh! Solution? May be I let my kaki kematu (yikes!)
Nearly 3 hours ran, I let my kids had their favorite drinks and snacks at Caltex petrol station.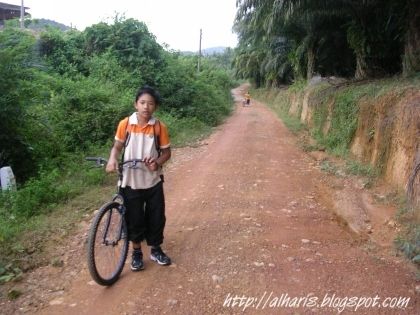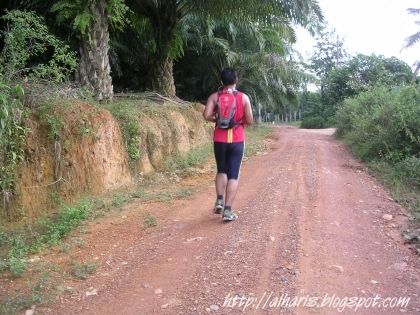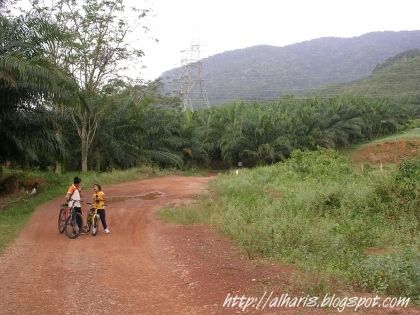 @Bukit Air Nasi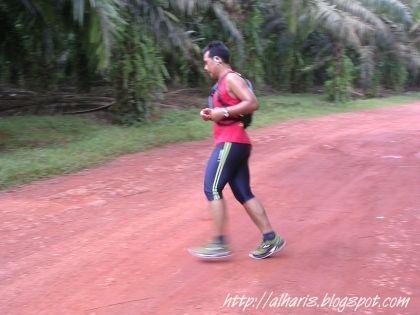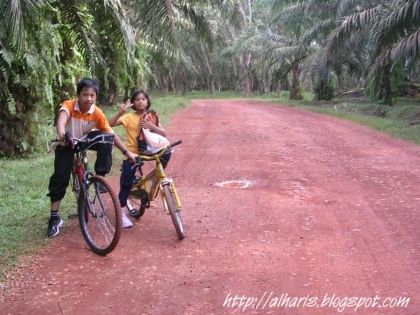 @Ladang Harvard