Report: Larian Bukit Tangga
By Aiman Cheah
Venue: Jelita Ostrich Farm, Kampung Sungai Terip, Seremban
Date: 24 December 2011 | 8.30am
Category: Men Veteran (41 and above)
Distance : 12km
Position: 17
Time: 1:17:31
Organizer: Negri Sembilan Youth and Sports Department, Negri Sembilan Tourism Board and Negri Sembilan Fitness Association
Thanks to my blog host, En Abdul Haris for the race info and encouragement to be among the prize winners. Without Mr C.F. Lee also I won't be going for the race. He was my navigator. A puzzled look on his face when I told him of his role when we met in the morning.
I have never been to Jelita Ostrich Farm but I reckoned that we would reach the venue by half past seven even if we get lost. Yes, we did miss the turnings and had to make u-turn. Any way, lady luck was on our side as we reached the destination by a quarter past seven with still several parking lots.
When we registered we were number 29th and 30th. If I am not mistaken, there were only 72 participants in my category. I thought it would be tough to be in the top 20. Again training was the issue here.
Monday
Morning - 1500m Swim 45mins
Afternoon - 6.3km Run 46mins
Tuesday
Morning 2000m Swim 60 mins
Wednesday
Morning - 2000m Swim 60 mins
Afternoon 6.3km Run 40.04mins
Thursday
Morning - 2000m Swim 60mins
Afternoon - 4.2km Run 36.19mins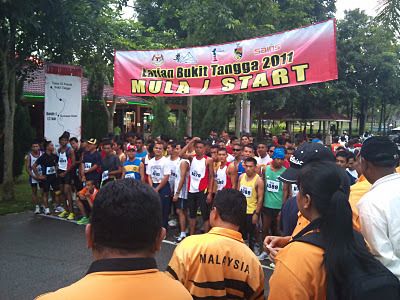 The start for Men Open. Picture courtesy of kuchalana.blogspot.com
With that kind of 'easy' training, naturally I started from the back. Not too many participants so it was the third row.
I went slow as my aim was just to complete the race. The first lady passed me after 12 minutes. Wow they started 5 minutes later than the Men Veteran! The first Men Open passed me after 23 minutes. They started 10 minutes later. These are the superwoman and superman. I reached the first check point - 3km in almost 18 mins. That was good at 6 mins per km.
I caught up with Mr Lee C.F after 34 minutes. That was long time as normally I would catch up around 25 minutes. I struggled a little more at he second check point - 6km 38 mins. 2 mins off the pace. Took power gel and made use of the water station lest I got into trouble like the
Perhentian Island Challenge
.
I reached the 3 check point - 9km after 58 mins. That was encouraging as I was still consistent. Drank 300ml of water which I brought. The route became steeper and I was happy to be able to be disciplined enough not to stop and walk! I don't think I overtook enough participants to be in the top 20 but pleasantly surprise to finish 17th! Learn from kuchalana that many were caught cheating...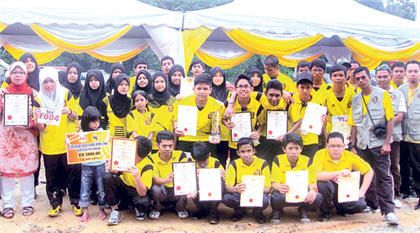 Sebahagian daripada 700 peserta mempamerkan sijil penyertaan selepas menyertai Larian Bukit Tangga di Jelebu semalam. Picture courtesy of utusanharian.com
Another lucky day as I struck a dry iron in the lucky draw. It was past mid day when the event was over. Luckily the organizer provided transport back to the starting line. Or else I shall roll down the road.
If going there took 1 hour, going back was at a snail's pace. Reached home at half past three. Almost two and a half hours drive!