Report: Newton Challenge 2012
By Aiman Cheah
New Year Newton Challenge 1.1.2012
Venue: Jalan BK5A/2, Bandar Kinrara, Puchong, Selangor
Date: 1 January 2012 | 5.30am
Category: Men Veteran (40 and above)
Distance : 25km
Position: 80
Time: 2:27:29
Organizer: TriSportz
Results:
www.triathlonmalaysia.com
I got up at 4.00 a.m. That was the second alarm. The first alarm was 10 minutes earlier. I did not feel too fresh for the race although I did sleep earlier. I planned to start from home at 4.30a.m. but only started driving to the venue at a quarter to five. Light traffic enabled me to reach the venue at 5.08a.m. There was no hurry and by a quarter past five, I had already deposited my bag at the luggage counter.
I am glad to be greeted by our Penang counterparts. Sorry Mr Lim as I could not really remember you. We met at Penang 12 Hours Walk recently. Of course the second time I saw him I could recognize him immediately. That was when I overtook him after the 6th water station. The one who is most familiar to me is Mr Liew Tho Fatt.
I started slowly and I didn't think it was that slow. I could not recall the timing as my watch experienced short-circuit!
I hope the people at the water station were not annoyed at me. May be a strange request for unchilled water. Luckily, they were not too busy to enable them to entertain my request. I think I lost 15-30secs at each of the 7 water stations. A great job by the volunteers for accommodating my request.
The slow race enabled me to run all the way to the finish line. A good start to the new year.
I am glad that Mr Lee C.F. had closed the gap with me. I only caught up with him just before the last water station. He agreed that a slower start helped him to finish stronger. I overtook Mr C.C. Choi (PM42) after the last water station. He complimented me after the race that I finished the race strongly. Actually he was just as strong for he was just 4 seconds behind me.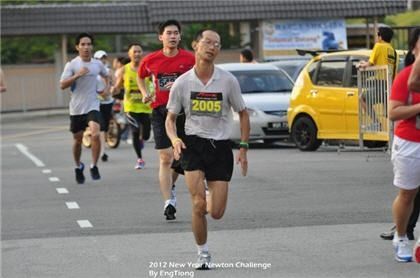 About 50m from the finishing line. Picture courtesy of Mr Tey Eng Tiong
I consider this as a very good race with the preparation that I had.
24 Dec (Sat) - 12km Larian Bukit Tangga
25 Dec (Sun) -
26 Dec (Mon) - 8.4km
27 Dec (Tue) - 8.4km
28 Dec (Wed) -
29 Dec (Thu) - 8.4km
30 Dec (Fri) - 8.4km