Report: Nalanda Walk For Education
By Aiman Cheah
Date: 4th March, 2012 (Sunday)
Time: 7.30 a.m.
Venue: Dataran Antarabangsa, Bukit Jalil Recreation Park.
Distance: 5km
Time: 32mins 25secs
Position: 5th
I was not under pressure in this race as 15 prizes/medals were offered. I aimed to be just in top 10. As usual the start was fast but I did not follow the leaders. Certainly lacked fitness and may not get the best of my performance. Last week, I did badly in the last 2km. Certainly not in competitive race walking.
This time around I did get the best out of myself. Doing 16:09 in the fisrt lap and 16:16 in the second lap. The 'hill' and 'stairs' were the killers for me. Slowed down considerably at these obstacles.
Generally, it was a well organized race. However, I think the route at the centre in Taman Sri Serdang is better for a race as the route is flat. But then, the venue is a little bit far.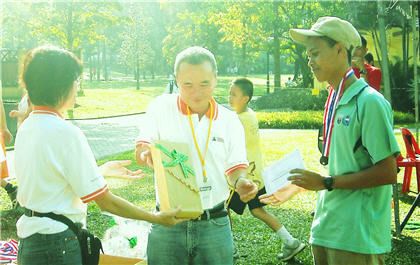 Men Champion - Fadzly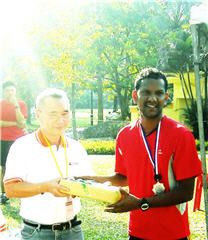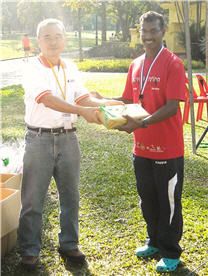 Men 2nd - Suresh and G. Suresh Kumar - Men 3rd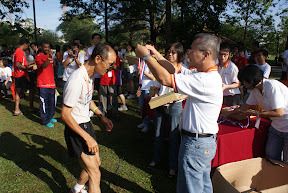 Men 5th - Aiman Cheah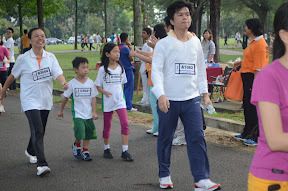 Afiqah and Akmal at the beginning of the race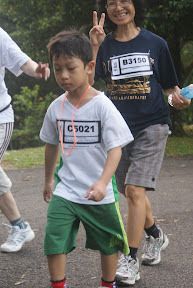 Akmal 30m from the finishing line.
Pictures courtesy of G. Suresh Kumar and
picasaweb.google.com/NalandaWalkathonWalkForEducation2012