Report: 1Malaysia 1Kilometre Walk 2013
By Aiman Cheah
Date: 8 December 2013 | Sunday | 7:00am
Venue: Dataran Putrajaya, Precint 3, Putrajaya
Distance: 1km
Category: Boys (Under 12yrs)
Akmal Cheah
Position: 10
Category: Girls (Under 12yrs)
Afiqah Cheah
Position: 7
This was the second time for Afiqah and Akmal in this event. As they were more matured, I no longer need to pace them.
There was no pressure for Afiqah as there was only 15 entries...all would get a finishing medal. She did well to finish 7th abiding rule 230.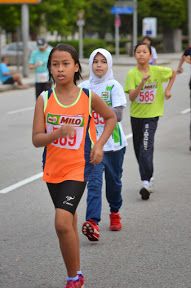 Afiqah
Akmal had a tougher fight as there were more than 15 entries. I was glad that he was not influenced by some walkers who were not observing rule 230.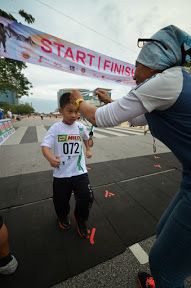 Akmal receiving his medal
No doubt we are encouraging youngsters in race walking but I think, getting the walking right is more important than finishing the race face using unfair advantage - blatant running and knee bending.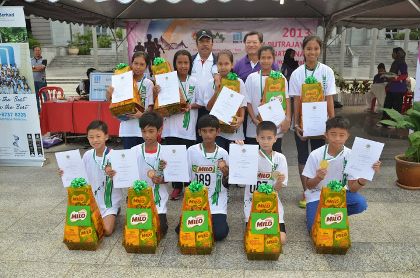 The winners for boys' and girls' category.
Pictures courtesy of www.racewalkermalaysia.com