Climbathon?
Tengok video clip Kinabalu Int. Climbathon 2006.. betul2 salute to those who able to reach the summit especially yang meet the Summit time limit Men Open (2:30H), Women Open (3:30H) and Veteran (3:30H). Rasanya kalau aku nak masuk and reach the Low's Peak within the time limit... maybe tunggu sampai tahun 2015. Masuk category veteran. :P
Tengok betapa "cool"nya Ricardo Mejia (champion) running and climbing up to the summit. Macam lari on flat road. Then follow by Agusti Roc Amador (004-ESP).. tengah dok struggle ligan Jessed Hernandez (ESP) & Ricardo.
If thinking run up-hill is hard.. watch them run down-hill.. Fuh! laju. Zup-zap-zup-zap. Silap pijak mau tergolek sampai Kundasang.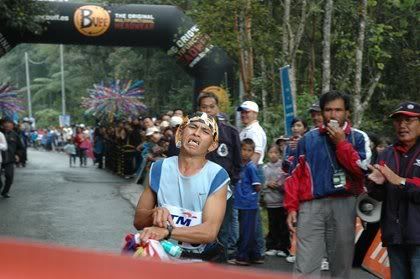 Then the touching moment when Mius.. our local hero (2nd) reach the finish line. Dengan Jalur Gemilang, teriakan para penyokong..
"Muis! Muis!.."
yang setia menunggu selama 3jam berserta mak dia kot... berpelukan dua beranak..
Yeah! you should watch video clip. Kang aku cerita sampai habis.. potong stim. And also the photos.
http://www.buffskyrunner.com/
After watching other circuit punya video.. ya! right! Mt. Kinabalu is "The World's Toughest Mountain Race". Be prepared.
Learned..
Mau pi/finish Mt. Kinabalu climbathon kalu... should consider all circuits in
SKN
. Cari 4WD punya kasut and (watch + learn + watch + learn) x 10times from women category video clip.
For 2007, The 21th Climbathon was set to take place on 25-26 August. The 5th of 7 circuits in Skyrunner World Series. Not the final circuit. The organizer have decided to host the final circuit/series in their own country in Spain.