mp3: FourPlay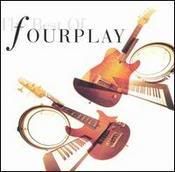 This all-star group (comprised of keyboardist Bob James, guitarist Lee Ritenour, bassist Nathan East, and drummer Harvey Mason) was formed in 1991 after the quartet came together on part of James' Grand Piano Canyon album. They have since recorded a number of CDs for Warner Bros. that have all been big-sellers, not surprising considering the popularity of James and Ritenour.
Larry Carlton took over the guitarist's spot in the late '90s, first appearing in Fouplay on the band's successful 1998 album, 4. The group's music borders on jazz with some strong improvisations mixed in with large doses of pop and RB, about what one would expect from these studio musicians.
Listen to this, make me free... for awhile..
Their new albums without Mr. Captain Finger - Lee Ritenour.. kurang kick skit
Ni laa akibat tak pi lari. Nak kayuh.. hujan tiap2 petang.
Enjoy the jazz songs.. - Click play button on the web player.