How to Win a Running Race
Tip from
http://www.wikihow.com
1. Choose your best starting position. Once the ref says "set" breathe in air. It helps you last longer in a sprint as you should breathe in your nose and out your mouth, it keeps you from cramping up in a longer race.
2. Keep a steady start. If you get a shaky one you won't get a good position.
3. Keep swinging your arms as fast as you can. That helps your legs go faster as well.
4. Store water in your mouth for a long race as it helps you run fast and far without getting tired.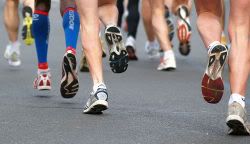 5. If you are in a long tiring race, don't ever go off sprinting in the start as it is a waste of energy and it tires the hell out of you. Just sprint a bit for a couple of seconds to help you keep in a good position, then just jog to not get tired and on the last laps, sprint like hell to come in a high position.
6. Before the race, do anything that makes you very angry and mad. Anger makes your determination rise and gets you going.
7. Keep humble. If you are very proud of yourself then you think it is too easy and you will come in a fairly low position. But keep your self confidence saying " I can do it". If you are too humble thinking your rubbish and you will do rubbish then you might be correct.
8. Be careful not to be put off by the pistol if the ref uses it. That is the thing that makes you come in a low position.
9. If you are running in an oval race track, try to keep in the lane closest to the center as it takes you the shortest time to complete the track.
10. Take in an energy drink like Powerade couple of hours before the race. It builds up all the energy inside you and makes you want use it all up and gives you strength and speed to do something
~~~~~~~~~~~~~~~~~~~~~

Actually.. for me the tips it's not about winning, just how to improve yourself.

Heheee.. i agree on tip#6. Such as marking your "musuh ketat" (Just a friendly thought to improve yourself). Don't said it infront of him like boxers or your end up like a boxer too. - Lebam bijik mata. Or felt mad cause no mobile toilet around and you have to "keep it" till finish line.

But tip#4 - eemmm how you do it?

Tip #10 - Do you take energy drink before, during or after workout? Why?

Put a comments if you like to share.
Labels: info