ING New York City Marathon 2007 Memorable Moments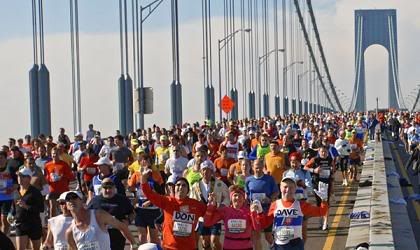 The Champions
At the 38th ING New York City Marathon on Sunday, November 4, Paula Radcliffe of Great Britain led wire-to-wire in the women's race and pulled away from Gete Wami of Ethiopia, 2:23:09 vs. 2:23:32, while Martin Lel of Kenya kicked ahead in the final mile to win the men's division over Abderrahim Goumri of Morocco, 2:09:04 vs. 2:09:16. Both champions notched their second ING New York City Marathon titles, and Lel became the first man in history to win both the Flora London Marathon and ING New York City Marathon in the same year.
Edith Hunkeler of Switzerland set a new course record of 1:52:38 to capture her third ING New York City Marathon wheelchair title. Hunkeler previously won in 2004 and 2005, but a serious injury forced her to miss last year's race. In the men's wheelchair division, defending champion Kurt Fearnley of Australia won in 1:33:58.
Breaking Down the Numbers
This year's ING New York City Marathon boasted the largest marathon starting field ever as 39,265 runners crossed the Verrazano-Narrows Bridge, 2,517 more people than started the 1996 Boston Marathon (36,748). Exactly 38,524 runners made it to the finish in Central Park, the largest number of marathon finishers in history. The second largest finisher field was the ING New York City Marathon 2006 at 37,866, and the third largest was the ING New York City Marathon 2005 at 36,856.
More than 100,000 people applied for the ING New York City Marathon 2007, a record number of applicants.
New York Road Runners paid $809,300 in prize money and time bonuses, with Radcliffe earning $170,000 and Lel taking home $160,000 plus a Toyota Prius each. And for the first time since 1982, there were four American women in the top 10: Elva Dryer (6th), Robyn Friedman (7th), Melisa Christian (9th) and Alvina Begay (10th).
Teaming Up for Charities
The official New York Road Runners charity program was one of the biggest winners of the weekend, raising $18.1 million, including $207,500 for American distance running development. More than 4,950 people ran for an official charity or charity partner. With more than 1,200 runners, the New York Road Runners Foundation's Team for Kids raised a projected $3.6 million to benefit youth health and fitness programs in under-served New York City public schools. Memorial Sloan-Kettering's Fred's Team, in honor of the legendary Fred Lebow, raised a projected $4 million for cancer research.
The Recycling Bin
New York Road Runners partnered with Poland Spring(R) Brand Natural Spring Water and the Department of Sanitation to implement the first recycling program in the history of the ING New York City Marathon. The initiative was an overwhelming success, as more than 11 tons (22,080 pounds) of cardboard and plastic was recycled throughout the five-borough race. In Manhattan alone, more than three and a half tons of waste was recycled, while Brooklyn South was a close second at three tons.
Did You Know?
3,152: Finishers from Italy, the country outside the U.S. with the most finishers
2,923: Finishers from Great Britain, second to Italy
12,658: Finishers age 30-39, the most of any age group
5:58:58: Time of the oldest female finisher, Margaret Davis of Azusa, CA, age 85
7:22:17: Time of the oldest male finisher, Peter Harangozo of New York, NY, age 86
53 degrees: Temperature at the start of the race
10,000: Volunteers who assisted with all race operations
18,000: Participants at the Continental Airlines International Friendship Run on Saturday, November 3
16,000: Attendees at the Barilla Marathon Eve Dinner on Saturday, November 3
76,239: Attendees at the ING New York City Marathon Health and Fitness Expo, more than 2,000 more people than in 2006. Friday attendees alone totaled 31,128, the highest ever one-day total.
43,040: Goody bags distributed at the expo
$2,408,932: Total sales from the Marathon Store presented by ASICS
Races Within the Race Winners
Mayor's Cup Award: NYPD
Foot Locker Five Borough Challenge: Richard Conley of the Bronx, 3:35:21
Alberto Salazar Award, given to the top American finishers:
Male: Sam Hill, 2:29:27
Female: Elva Dryer, 2:35:15
Lewis Rudin Award, given to the top Team for Kids fund-raisers:
Male: William Mills, $17,008
Female: Beth Rustin, $13,250
Abebe Bikila Award winner: Paul Tergat
By New York Road Runners' Marathon Mile Markers
Posted Friday, 30 November, 2007
Labels: info