Musing on KL Tower International Forest Towerthon Challenge 2008
By Aiman Cheah Tiong
email: cheahtc [at] pc dot jaring dot my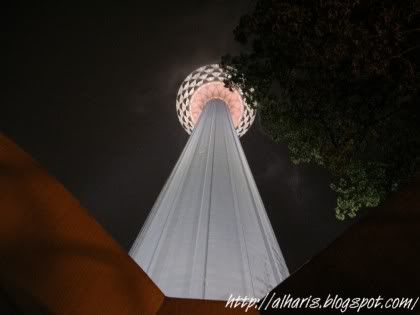 I have always enjoyed being a part of sports event, particularly athletics, be it as a participant, an official or a volunteer.
There was one incident which I felt is worrying in the above event. I wonder how many of the participants would prefer to climb up wet stairs or stairs strewn with mineral bottles.
I was at T8 of the tower when I witnessed competitor B874 was happily splashing the stairs with water on her way up and I was quite shocked to hear the thundering noise of a thrown water bottle. My first thought was she could be too hot and needed to cool herself down. But then, if she truly felt the heat, would it not be more effective if she poured the water over her head instead of her right hand?
Moments later, I saw a Kenyan woman and it immediately made sense why B874 was so hot – the Kenyan was hot on her heels. B874 went on and won the title. I must say that she was a champion without glory! I have always admired her determination because she could be back on her feet within weeks to represent Malaysia after going through childbirth and heart surgery but the little incident has left me questioning my respect over her.
If you were to be in her shoes, would you be proud if someone slipped and injured because of your action? Would you be proud to be on podium and showing off your mock cheque that you have won by not giving a fair chance to your competitor to challenge you – in other words, you have gained advantage through dirty tricks. Shame on you Yuan Yu Fang! As a Malaysian, I felt ashamed that you have won the title!
I must admit that others, especially the boys had committed the same "crime", but those were not leading and they were playing a fool. Of course they were wrong too but an athlete like Yu Fang is seen as an idol, a figure for the youngsters to emulate. As in the Spiderman movie, "with greater power comes greater responsibility", it simply means that when you are well-known and people are looking up to you, you have to be more responsible and show good examples.
I am glad that most of the participants were very co-operative to give way to other participants to pass them so both fast and slow participants could enjoy the challenge.
Aiman Cheah Tiong Chap is FTAAA technical officer, got his license since 1989. His scope of duty in FTAAA in technical matters such as timekeeper, finishing, check-point, track and field judge.

In KL Forest Towerthon Challenge 2008 held on 3rd February, he incharge at TH08: Check-Point.

- Haris
Labels: info