Hari Tahun Lompat
Friday, 29 Feb 2008.
It so expensive swimming in Sungai Petani. There is no pool open for public. Currently only BLM Club house and Harvard Golf resort offer free access for membership and extra $$ for guest - A RM5 per entry for non-standard size of pool.
Months ago i
registered a swimming courses
with Alauddin in BLM. I took a free-style while breast-stroke for Alauddin. Each session I had to pay RM15 as entry fee (of course that fee include Jasmin too) regardless ages. In a week we went 2-3 sessions but that not include training session at Harvard Gold Resort. See... that why i pokai now - less outstation run race.
We finished the course a few weeks ago.
"He's not afraid of water and berani mencuba"
comment his instructor Mr.Goh (and mine too) And now i registered Alauddin for 2nd stroke – free style.
So last friday i decide to try standard swimming pool. I took leave and I drove to MBAS (Majlis Perbandaran Alor Star) swimming pool early morning @7:15am. >50km+ and @8am we had a breakfast at Stadium Darulaman. Kids still sleeping.. until i shout
"Kolam renang dah sampai!!"
Both of them excited gila.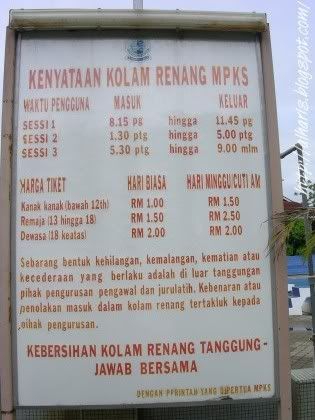 The pool open longer hours in morning session (8:15 - 11:45am) and it cost us only RM5 for three of us! Duh!.. Awat murah sangat! Kitaorang mandi sampai kecut.
Alauddin and Jasmin start swam for first 50m
Alauddin continue breast-stroke a few second later for 1st 50m
He continue for next 50m. (battery habih plak at end of pool)
I'm doing 100m. The purpose i capture this video is to detect any wrong-doing, trying to improve, sharping my skill and reduce 'rintangan'. From the video...
a. I need to flat more in water. Rest my neck.
b. I need to learn breathe on left side.
c. I need to learn sommersault for next lap
d. ..anyone to add comments
Actually last week i was happier, i managed to swim nearly 15min and last Friday i did nearly 40mins non-stop. Lost count number of laps I did. I'm able to control my breathe rhythm and felt like gonna sleep in water while swimming.
Do i ready for open water? - Hell NO (a big N and O).
Frankly i got one phobia - A fear of deep water. And i still learning from Alauddin, how he floating in standard pool.