Malakoff University Duathlon Series 2008
This year, MALAKOFF CORPORATION BERHAD presents the MALAKOFF UNIVERSITY DUATHLON SERIES 2008 fueled by POWERBAR (MUDS).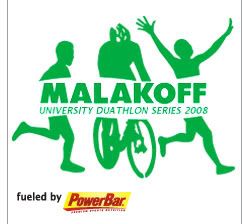 MUDS will be ALL ABOUT DU-ATHLON and the duathletes - going back to the basics of focusing on encouraging multi-sports in and among the universities and nurturing young talent.
The 3-part series will take place over a span of a month in 3 local universities, pitting students and universities for placing medals and the top / best university trophies respectively.
University Kebangsaan Malaysia
Bangi
19 July: 3km run - 14.5km bike - 3km run
University Malaya
Petaling Jaya
26 July: 3.5km run - 14km bike - 3.5km run
University Pertahanan Nasional Malayaia
Sg. Besi
2 August: 4km run - 19.5km bike - 4km run
More detail at
http://www.duathlonseries.com.my/index.html
..from Major Kalam Pie - RMAF