Austria's Weidlinger wins Great Australian Run
MELBOURNE (AFP) - Austrian Guenther Weidlinger upstaged Olympic champions Sammy Wanjiru and Stefano Baldini to take out the Great Australian Run over 15 kilometres (9.3 miles) here on Sunday.

The three-time Olympian kicked clear in the final stages of the mass public run to win in 43 minutes and one second and 17 seconds ahead of Australians Collis Birmingham and Martin Dent.

Kenya's Beijing Olympic marathon champion Wanjiru was fourth in 44:20 and 2004 Athens Olympic marathon gold medallist Baldini finished 11th in 45:42.

Wanjiru, 23, only arrived in Australia late Friday because of the hospitalisation of his daughter and said his tiredness had affected his form.

The man tipped to break Haile Gebrselassie?s world marathon record next year, he wasn?t at his best as he chose to sit in the leading pack rather than aggressively set the tempo out in front.

"Today was not my day," Wanjiru said. "I can come here to try again (next year), maybe to break the course record or world record for 15km."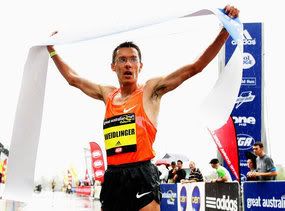 Giant-killer: Weidlinger beat out Olympic champions in his winning run. (Getty Images: Mark Dadswell)



Weidlinger and Birmingham ran away from Wanjiru at the 6.5km mark and the Austrian found something extra to shake off Birmingham just before the 10km mark and didn?t look back in the final 5km.

"It?s probably one of my biggest victories because I have beaten two Olympic champions with Baldini and Wanjiru and I have beaten the European champion Jose Manuel Martinez (who finished eighth in 44:58)," Weidlinger, 31, said.

"He (Wanjiru) showed from the start that somebody should lead with him and after 1.5km, I thought ?I feel good and I am in the race and in the rhythm? so I tried to push a bit and split up the lead group.

"I realised that Wanjiru was not in his best shape so I tried to push the last 200m uphill and we lost him.

"I was really happy that we lost him, because you never know with a Kenyan behind you what will happen."

Ethiopian great Gebrselassie won last year's race from Kenyan Patrick Makau in 42:40 minutes.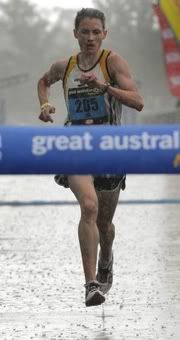 Nikki Chapple of Australia crosses the line to win the women's division of the Great Australian Run 2009



Australian Nikki Chapple won this year's women's race in 50 minutes and 18 seconds ahead of compatriot Benita Willis and British dual Olympian Helen Clitheroe.

Portugal's 1996 Olympic champion Fernanda Ribeiro finished fourth in 51:41.
Labels: news