Report: 1 Utama 1 Day Out 'Fun Walk'
By Aiman Cheah
Date: 01 January 2011 | Sunday | 8:00am
Venue: Central Park, 1 Utama
Distance: 4.5km
This is a fun way to celebrate a new year with a nice number 1-1-11. My children had a good work out for the day.
We started from the back and remained at the back for almost 2km. When there was a big gap, I decided to give Akmal a lift and we caught up with the rest.
I actually miss the 'best dressed participants'. We should have gone back to the starting line when the announcement was made. The third prize was within reach as the third prize winner wore a simple Chinese costume, so are my children. Akmal with Chinese costume and Afiqah with Indian costume.
Anyway, we had fun after the race. We went to 1 Utama to have breakfast and then went for the games at the park. The children enjoyed the 'boat bumper' but the queue was too long. We were lucky to be among the first. I tried the flying fox and inflatable wall climbing. Quite scary when looking down.
Before going home by noon, I went to claim 'satay' and guppy fish. Lucky to get the fish after a long queue. I should have taken the fish earlier because those who got them earlier had bigger fish!
People of all ages and races participated in the morning walk.
Picture courtesy of Star Metro, Central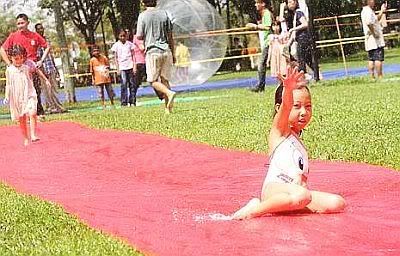 Kayly Chong, 9, having a go at the Super Slip & Slide.
Picture courtesy of Star Metro, Central