Report: Tibi Run
By Aiman Cheah
Date: 11 December 2010 | Saturday | 7.30am
Venue: Padang Merbok
Category: Men Open (18 - 44 years old)
Distance:7km
Result: Time: 42:45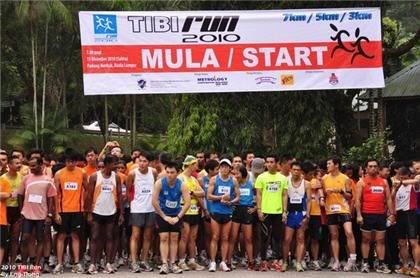 At the start of the race - courtesy to Mr Tey Eng Tiong
I was confident to finish the race with a medal since 200 medals were offered for the finishers. There was no pressure of missing a finish medal because I used to be among the 95-110 for men open and 40-60 for men junior veteran finishers in other runs.
The race course was not something that I like. Hilly, where my weakest point is. However, I was glad that I managed to complete the race without stopping except at the water station.
I was happy to meet my two former form 3 students from SMK Taman Desa. Then, they were not interested in runs. One has graduated from a flying course and will be attached to FireFly while the other is still studying.
My student's friend who is a fourth former from SMK Taman Desa finished 9th in the under 18 category.