MP3: Acoustic Alchemy
Acoustic Alchemy is a British contemporary instrumental and smooth jazz band formed in England in the early 1980s , originally fronted by acoustic guitarists Nick Webb and Simon James.
Was introduced by my bro somewhere in 80s while in SBP (sekolah berasrama penuh) school. With a walkman, it helps me to stay awake. Love listening their guitars. Feel fresh and relax.
Depa ni selalunya dua orang dan saling dok tukaq member tapi aku suka dengar dari Nick Webb dan Greg Carmichael.
Got numbers of their albums Natural Elements, Blue Chips, Back On The Case, Early Alchemy, Against The Grain after that.. stop for awhile tarak duit nak beli dah.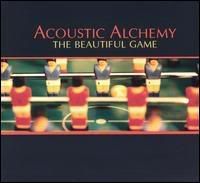 Click on the mp3 player for their 11th album The Beautiful Game. Semua sedap. Bubuh earphone dlm telinga. Pejam mata. Free your mind and layaaaannn.
1. Trail Blazer
2. The Beautiful Game
3. The Last Flamenco
4. Big Sky Country
..woiiit - tidoq ka!