Training: Week3 Feb07
Mon: Penat tak habih lagik
Tue: Nganga.
Wed: Outstation.
Thu: Lena.
Fri: Lupa.
Sat: Bike. Sungai Petani - Sungai Bakap
Sun: Bike. Sungai Bakap - Taiping
No workout during weekdays. Still confused whether to put my Pegasus or Shimano. Anyway.. was assigned for outstation works on Wednesday. Maybe my last trip to Ipoh. To tutup "kedai". Took opportunity to measure the distance from home to Taiping.
Using old road SP - Butterworth - Tol Jawi thru Kepala Batas - Teluk Air Tawar - Pmtg Pauh - Bukit Minyak - Spg Empat - Sg Bakap & Tol Jawi = 70km. A very busy road especially during early morning. Almost an hour half to reach 30km at Butterworth.
From Tol Jawi - Spg Lima - Bagan Serai - Selinsing - Simpang = 50km. On Friday, schedule changed. Had to stop Sg Bakap first to celebrate CNY.
Saturday,
Stage1. Sungai Petani - Sungai Bakap
Thinking.. SP - Butterworth - Sg. Bakap, too short and lot of traffic/sibuk. Changed the route. Sg Petani - Pinang Tunggal - Sidam - Pdg Serai - Kulim - Junjung - Tasek - Sg. Bakap = 90km
Thanks to Cikgu, she agreed to drive as a support car (SC).
6:30am - Start kayuh from home and followed by support car at 7:30am
@60km, SC lost my track inside bandaraya Kulim. My valuable 5mins gone, to guide them while waiting at Junjung junction in-front of IPD Kulim.
Nasib baik cuaca mendung.. tapi tak hujan. Not too hot + a shady kampung road. Boleh pederas a bit.
From Junjung, SC escort me until Sg. Bakap and speed-up to buy some breakfast kat pekan and i continued kayuh thru Lima Kongsi (a short-cut passing pekan Sg. Bakap).
30km = 52.39mins
60km = 1:52.01 (59.22mins)
90km = 2:59.22 (1:07.21mins)
+3km for easy/recovery ride.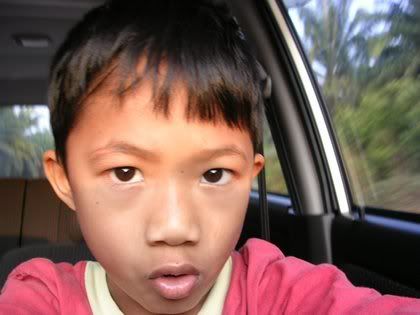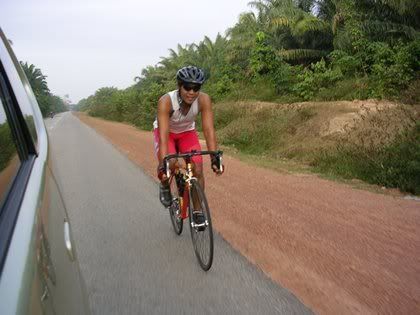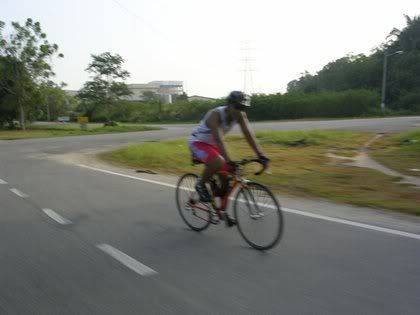 Sunday,
Stage 2. Sungai Bakap - Taiping
Start at 5:30pm after Asar. From my kampung - Bukit Jawi Golf Resort - Sg. Kechil - USM Transkrian - Parit Buntar and jalan lama to Taiping.
@30km - Passing pekan Bagan Serai.
@40km - @Sungai Gedong. Can not tahan. Need more speed to reach Taiping before Maghrib. Call the SC for a 100Plus.
@50km - Selinsing. Lega a bit. Hari dah gelap.
30km = 56mins
60km = 1:50 (54mins)
+3km.. easy and recovery ride.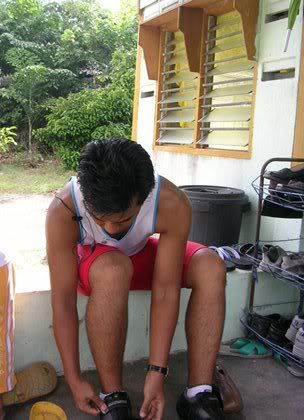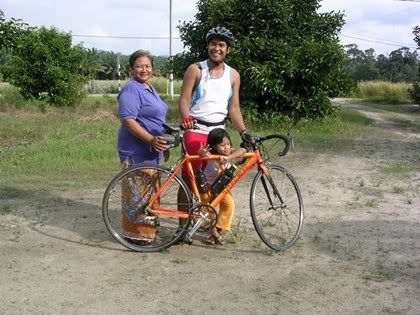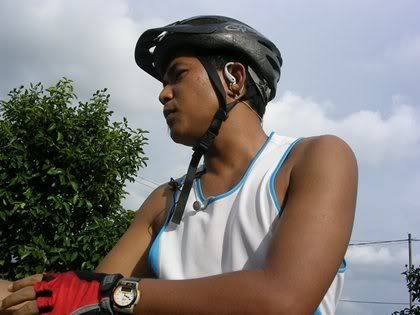 Labels: Junjung, Lima Kongsi, Sidam, USM