Training: Week1 Feb/Mar07
Mon: Home <-> Thye Eng. 9km. 43.13
Tue: Home <-> Thye Eng. 9km. 43.31
Wed: Rest.
Thu: Home -> Office -> Gurun -> Bandar Laguna Merbok. Bike. 47km
Fri: Rest. BM Leopard Chinese New Year dinner at Bukit Minyak
Sat: 10km Run and 102km Bike
Sun: Rest
On thursday Alex called and invited us for a CNY dinner at Bukit Minyak. Located at a newly open Restoran Nelayan, just couple of week ago at Auto-City. Went there with Cikgu and kids. Only aku clan lain. Yamseng with Alex dengan ayeq oren.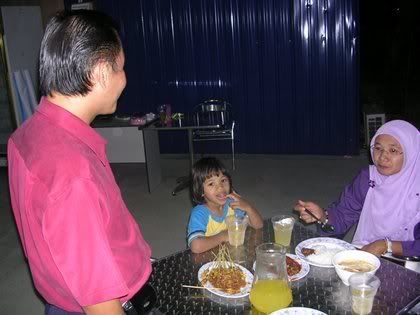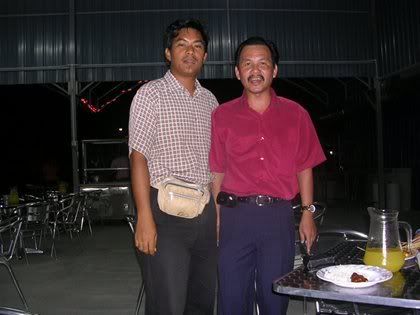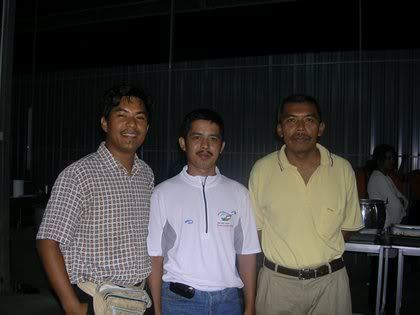 With Fadzil and Pak Ya from BM Leopard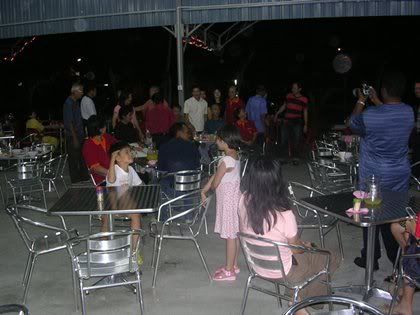 Saturday.. lama tak buat run-bike.
Called Reza late nite after return from CNY dinner and he is ON.
6:30am after subuh, did 10km from Home to Taman Sinar Mentari and return. Long time i'm not running to Taman Sinar Mentari. Lots of local doing jog, walk and chat. Reach the marking post within expected timing 25.54 then return home. 22.34 (10km @ 48.28)
Quickly changed tight, shoes, empty a bottle of water, locked the door+gate and capai gerek, kayuh to Reza's house at Sungai Layar. Transition time 7.24 (55.52)
From Sungai Layar, we passing Sungai Pasir, Simpor, Tikam Batu then using the main road heading to Teluk Air Tawar (PG). Teluk Air Tawar @40km, really need a 100Plus. Can't pecut anymore. Maybe because of 10km before.
Just tailing Reza until reach Pekan Kota (Kota Kuala Muda). Stop for breakfast.
Then continue pedaling to Pantai Merdeka.
From Pantai Merdeka back to Pekan Kota - Tikam Batu - main road - Eastern Bypass - Titi Semeling and rumah. Actually @eastern bypass which another 15km more.. aku dah pancit habih. 3 cans of 100Plus and 3 minerals bottles dah tutuh. But felt no energy left. Pancit. Panas terik. 12pm. Just slowly pedal back home. Ingat2 mau teriak aku atas gerek nak call cikgu mai ambik aku kat Titi semeling.
Reach home.. terus merangkak+tertidoq kat garaj reta with seluaq gerek. Exhausted gila-babi.
102km. 4:39.35 (5:36.02)
Petang..
Went to Tanjung Dawai, playing kite with kids.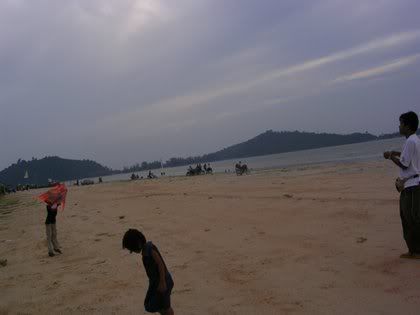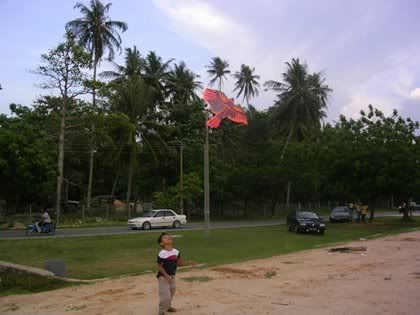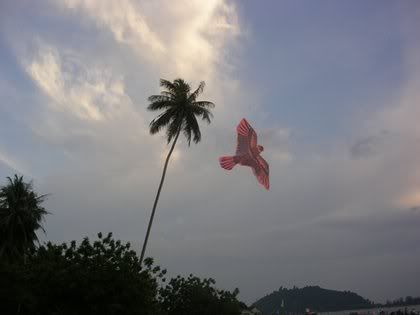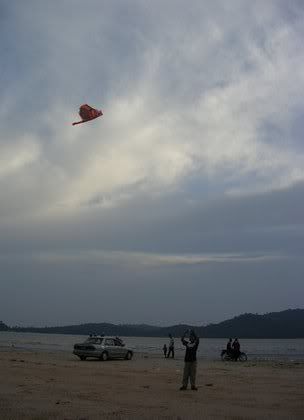 Labels: dinner, gerek, Tikam Batu