Spirit Of The Marathon
Spirit of the Marathon
is a film that takes a close and very personal look at the marathon as never before. The film stars professional marathoners Deena Kastor and Daniel Njenga, as well as four unique and determined amateurs, all preparing for the same event: the 2007 LaSalle Bank Chicago Marathon.
The marathon is presented as a mass participatory event seen through the training and race-day perspective of the six individuals. The film also explores the emotional experiences and bonding of participants and spectators in a race, relates the growth and mass appeal of the marathon in contemporary society, and explores recent history and ancient traditions.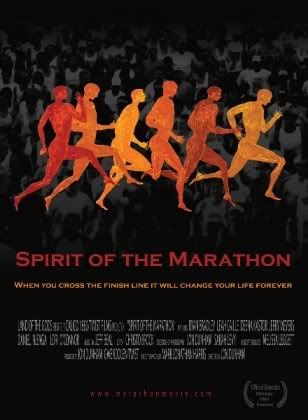 The filmmakers know marathons. And they clearly have tremendous passion for the historic event. They create a stirring, intensely personal account of a dramatic race after months of preparation, obstacles, setbacks, determined perseverance—and finally triumph. They have produced a masterpiece with lessons that transcend sport. No, this is not a sports documentary. But parallels are drawn through the experiences, empowerment and sense of accomplishment of a half-dozen people in a field of tens of thousands preparing for and running one of the world's largest and most prestigious marathons.
Produced and directed by award-winning Jon Dunham, a fervent marathon runner (more than two dozen to his credit—four Chicago Marathons); along with executive producer Mark Jonathan Harris, a three-time Academy Award winner; and producer/marathoner Gwendolen Twist, this outstanding film follows the determined and emotional journey of two of the world's best marathon runners and four amateurs—two running their first marathon—as they prepare for, and finally complete, the Chicago Marathon. Hundreds of hours of film shot on four continents have been condensed into a fantastic, clever and dramatic view of the sport from a perspective never before seen in theaters. The filmmakers bring us incredible footage of the Chicago Marathon, despite the unbelievably hectic environment of race day.
The recognized stars are Deena Kastor of California, Olympic bronze medalist and American record holder, and Daniel Njenga of Nyahururu, Kenya, winner of several major marathons and ranked in the world's top 10. Also starring are Lori O'Connor, Ryan Bradley, Leah Caille and Jerry Meyers, all from the Chicago area, and all inexperienced in marathon running, but just as dedicated to critical personal goals.
Deena Kastor—Distance Running Superstar
Deena Kastor is a star athlete and has a starring role in this film. She is one of the USA's most accomplished distance runners, best known for her Olympic bronze medal in Athens in 2004. She holds many American records from 5K (world record) to the marathon.
But despite all the records, accolades and races, she had never won a major marathon prior to running Chicago in 2007—not even the U.S. Olympic trials marathon. This film tracks her path to victory, running 2 hour, 21 minutes, 25 seconds, a new American record at the time. This triumph came despite a debilitating foot injury (broken bone in her foot) that interrupted her training and had her "running" in a pool for fitness. This triumph—and its accompanying tribulations—make her story all the more arresting. She followed Chicago with her record-setting win in London the following spring. Her London win produced the fourth fastest women's marathon in history: 2:19:36.
She was one of many stars originally contacted by Dunham—even before her medal-winning Olympic Games. And the crew focused more and more on her as her training progressed, especially since she was training for Chicago—the central event of the film.
"I simply went about my normal routine and training," said Kastor, "and they followed and filmed as we went. I did not find it distracting. In fact, it was motivating."
"I was struck by the similarities for us as we prepared for the Chicago Marathon," she said. "Everyone had hurdles and setbacks, and everyone struggled through long runs—it was so similar despite the different levels of training and pace."
"I went into that race very confident—I don't know where that came from—but I was supremely confident," Kastor recalled. "I ended up winning by only five seconds, and I hit the wall for the first time."
Talking about the other runners in the film, Kastor explained, "We do many of the same things to get ready, and we have the same concerns, fears, doubts, nerves. The six of us became the focus as Chicago approached, but we didn't meet each other until a post-race brunch. That was terrific, and emotional—an immediate bond of friendship."
"It was a thrill to be involved in this project with such a great crew. And Jon has such a tremendous passion for the marathon," she said. "It could not have been done by someone unfamiliar with our sport."
Joan Benoit Samuelson heads a list of marathon notables also making appearances in Spirit of the Marathon. There are interviews and vignettes from some of the greats of the sport: Olympic marathon gold medalist, Frank Shorter; four-time Boston winner, four-time New York winner and two-time Olympian, Bill Rodgers; Boston and New York champion, Alberto Salazar; Paula Radcliffe; Greta Waitz; Paul Tergat; Amby Burfoot; Hal Higdon and many more—a who's who of the marathon in recent decades.
The film is enhanced by an emotional score written by Jeff Beal and played by the Philharmonic Orchestra of Prague, which beautifully blends the emotion, strain and exhilaration of the marathon—and the dogged preparation that comes before.
Spirit of the Marathon, earned tremendous acclaim and the Audience Choice Award in its debut at the 43rd Chicago International Film Festival in October of 2007. It won similar acclaim at the inaugural Mammoth Lakes Film Festival a month later. Spirit of the Marathon will be shown on one day only—January 24—in cities across the United States. Click here for more details and to find a showtime in your area.
At last, a film that captures the drama, personal sacrifice and incomparable reward of the marathon for all of us. Spirit of the Marathon is a movie all runners must see; and one all others should see. It will have you primed to get on the road and trail. And it will reinforce for all, once you cross that finish line, your life will never be the same.
By Skip Cleaver
For Active.com
The Trailer
..just listen to background music make me want to do marathon again..
Labels: info