Bujang Valley Adventure Challenge 2008
Organizer:
Persatuan Kembara Negara
Date: 2-3 February 2008
Venue: Lembah Bujang Archeological Museum, Merbok, Kedah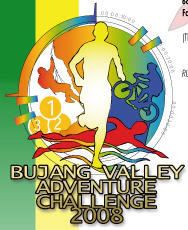 An adventure event (pap! pap! - tepuk dahi), consist of 9 race disciplines; running, mountain biking, mystery test, kayaking, baithlon, abseiling, flying fox, river crossing and mountain climbing.
Very near to my home and a same location where i took part 2 x SKN:Gunung Jerai (
2005
and
2006
).
Duh! Why so much disciplines involved?. There is no chance local people can take part. Buat baithlon udah lar.
Anyway form available at Forms and Event section
Labels: event